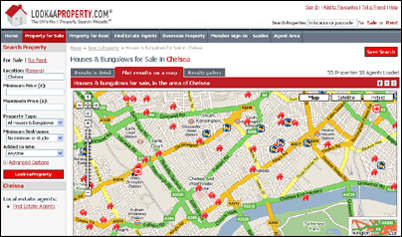 Plot Results on a Map
(PRWEB) September 10, 2006
Look4aProperty.com has announced the launch of its new Google Maps powered UK property search feature. This new features allows Users to access a map view of their chosen real estate results by clicking upon the new "Plot Results on a Map" tab found at the top of the property results page. Users can choose to then zoom in and out of the map as required to view the properties in their chosen location. A satellite map view and hybrid view (a combination of the satellite and conventional map view) are also available helping Users to better research the locality of any chosen property.
Look4aProperty.com says that this new functionality will help individuals who are keen to live in a very specific area. The new maps work with the existing, detailed list of property types allowing Users to now view properties that match your exacting requirements in a precise location.
The new maps display houses, flats, commercial properties and land/garages for sale. In addition to this, the maps also display a number of useful, local points of interest including schools, train and tube stations, motor way junctions and estate agent offices.
Look4aProperty.com has also added a new "Gallery Results View" page which displays twice as many properties as the default, more detailed list view. This new version of the results page has been designed for Users who want to quickly scan through pages of property details without the distraction of a property description or unnecessary details. Look4aProperty.com says that this new gallery results page will be of great use to anyone trying to quickly find properties of a very specific type (e.g. "Character") in a given location.
Look4aProperty.com has also taken this opportunity to refresh the design of the property and agent details pages. All of these design changes are, say Look4aProperty.com, intended to present both property and agent details in a clearer and more focused manner for the benefit of both property seekers, property owners and their member Estate Agents.
Aaron Turner, CEO of Look4aProperty.com said, "Look4aProperty.com is committed to the continual development and improvement of both its features and the general property seeker user experience. We are delighted to now offer our Users the benefit of map searching and the power of Google maps. We are the first, major, independent UK property portal to harness the power of Google Maps but, just as with some other unique features we have launched in the past that have been readily copied, we are probably not going to be the last!"
Editors Note:
Look4aProperty.com is the fastest growing, on-line Property Portal in the UK. Look4aProperty.com offers property for sale and property for rent across the UK and Overseas. Look4aProperty.com is a wholly independent and privately owned Ltd UK company.
###