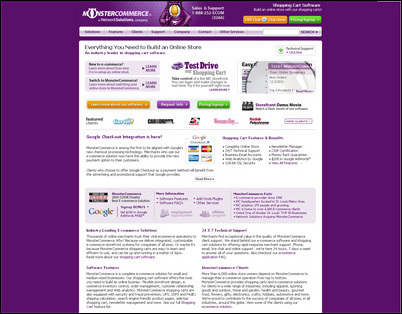 The biggest advantage we have over eBay is that we are a flat-fee service
Belleville, IL (PRWEB) September 8, 2006
Online business owners who are upset about the recent eBay fee increase are discovering a better option for ecommerce software shopping cart solutions. MonsterCommerce, a Network Solutions Company, is waiving its store setup fee for anyone who makes the switch from eBay Stores to MonsterCommerce and its ecommerce software shopping cart.
MonsterCommerce's virtual shopping cart software offers several advantages over that offered by eBay Stores. For example, MonsterCommerce's system uses standard HTML in its high-quality templates. MonsterCommerce clients work from a list of predefined functions with instructions, which makes designing a store extremely flexible, yet simple to accomplish. While MonsterCommerce offers fewer templates than eBay, the end result is an attractive and customizable storefront that's easier to manage for business owners using MonsterCommerce. In addition, MonsterCommerce lets business owners offer multiple shipping options at checkout.
Business owners concerned about controlling their budgets also find MonsterCommerce extremely attractive. "The biggest advantage we have over eBay is that we are a flat-fee service," says Dan Kennedy, Vice President of Online Services for MonsterCommerce. "MonsterCommerce does not take a percentage of your revenue like eBay Stores does. That means a lot to small business owners, who can keep more of what they make, helping grow their businesses more efficiently."
MonsterCommerce is dedicated to offering a full suite of ecommerce services including the best shopping cart software available. Other services include domain registration, merchant accounts, Website promotion, SSL security, e-commerce power hosting, storefront systems, and more.
The company was a CODIE Award Finalist for Best E-Commerce Solution in 2005 in recognition of its achievements, including best-in-class shopping cart software.
"MonsterCommerce delivers an integrated, completely customizable ecommerce storefront system for companies of all sizes," says Kennedy. "We bring our customers a system that's easy to learn and use and can be up and running in weeks or even days. Our customers appreciate our 24x7 friendly support."
Anyone searching for best-in-class shopping cart software should go to MonsterCommerce.com to learn more. With MonsterCommerce agreeing to waive the setup fee for anyone switching from eBay Stores, MonsterCommerce is an even better value. The recent eBay fee increase has driven cost-conscious business owners to look to MonsterCommerce for reliable, user-friendly shopping cart software.
About MonsterCommerce:
MonsterCommerce, a Network Solutions Company, is an e-commerce provider for business clients needing e-commerce store building tools, design services, merchant accounts, Website promotion, and other services vital to a successful online business. MonsterCommerce has provided cutting-edge e-commerce services to thousands of e-commerce businesses since 1998. The President and General Manager of MonsterCommerce is Stephanie Leffler. For more information on the free setup offer and other services, visit MonsterCommerce.com.
###