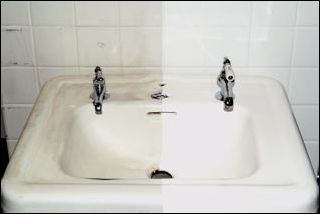 The Miracle Method process includes buffing and polishing the bathtub surface which brings out a deep gloss and gives the tub its like new feel
Colorado Springs, CO (PRWEB) September 12, 2006
There are far too many people in this country living with harvest gold and avocado green bathtubs because it costs so much to have them removed and replaced. How Much? The National Kitchen and Bath Association says it costs an average of $3000 for removal and replacement and up to a week to have a contractor perform the work.
Miracle Method, the nation's largest refinishing network, has a bathroom makeover solution that won't break the bank. It's called refinishing and Miracle Method's network of over one hundred franchises have refinished hundreds of thousands of bathroom and kitchen surfaces using their proprietary bonding method to change colors and restore them to look and feel like new.
"As successful as we have been for 27-years, we find eight out of ten people still don't know about the benefits of professional refinishing," says Chuck Pistor, President of Miracle Method. "We can restore the finishes on porcelain, fiberglass and cultured marble bathtubs and even renew laminate and Corian® kitchen countertops."
The results are truly remarkable. "The Miracle Method process includes buffing and polishing the bathtub surface which brings out a deep gloss and gives the tub its like new feel," adds Pistor. "It's a quick process, typically involving cleaning, bonding and refinishing the first day and buffing, polishing and caulking the second day."
The cost for refinishing a bathtub ranges between $400 and $500 and $750 to $900 for a bathtub and tile surround, depending on the condition. Chips are repaired and Miracle Method can match any color, although 85% of all tubs they do are white, almond or beige.
Bathrooms are no longer Miracle Method's only focus as they are refinishing more countertops than ever before. New coatings, especially their "stone like" surface are becoming very popular, especially for people who want the natural stone look, but can't afford it. "Homeowners can say goodbye to knife cuts, burns, chips and outdated colors for a fraction of the cost of removal and replacement. It not only cost less, but takes only a couple of days and without the mess of tearing off the original countertop and disruption of the kitchen," according to Pistor
Pistor offers advice to anyone looking for a quality refinisher. "Refinishing is a great process if it is done with the right materials and techniques, but all refinishing is not the same, so be sure to ask lots of questions. How long has the company been in business? Are they licensed, insured and do they use corrosive acids in your home? Do they ventilate the room and do they offer a guarantee? Before making a decision definitely ask for references. You definitely get what you pay for with refinishing."
Miracle Method offers a five-year guarantee against peeling or failure of adhesion. A refinished surface should last 10 to 15 years with the same care and maintenance recommended by new tub manufacturers. To see pictures of refinished fixtures and to learn more about bathroom restoration or franchise opportunities, visit Miracle Method's web site at http://www.miraclemethod.com, or call (888) 819-4399.
###