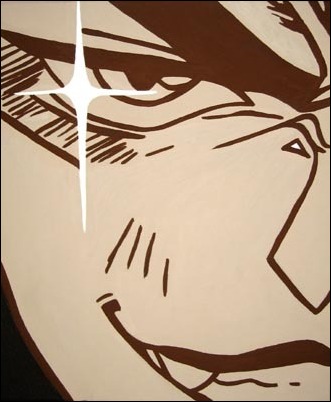 Los Angeles, CA (PRWEB) September 9, 2006
The dynamic paintings of Lore Eckelberry are now on view at Infusion Gallery, 828 South Main Street, Los Angeles, CA 90014. The show will run from the 1st to the 25th of September, with an artist reception on the 14th of September from 6pm to 10pm.
On the web, you can see Lore Eckelberry's work at http://www.artistlore.com
Painter Lore Eckelberry gets inspired by the dynamic art of Japan called Manga and Anime. Her work is all done by her confident brushstrokes laying a shimmering palette of color on large scale canvases bringing a painter's sensibility to an art form.
The perfection of her outlines shows the control that an artist can bring to a brush on canvas. By using such a traditional medium of paint brush on canvas, Lore Eckelberry gives even more energy to the contemporary anime style.
In addition to the bold line work made completely by hand, Lore Eckelberry's amazing combination of Acrylic-Gouache colors add an even stronger life to the already vivid emotion portrayed in the work.
In the exhibition, Lore Eckelberry's strong anime series of paintings are hanging right next to her African Masks portraits of ceremonial warriors. These African paintings show Lore Eckelberry's brilliant technique applied to a reinterpretation of traditional face paintings used in African ceremonies. The link between these two worlds of African and Japanese cultures is Lore Eckelberry's masterful use of color and line.
This exhibition is a wonderful way to see how an artist can bring two completely different worlds into one unique interpretation of art.
For more information about the artist Lore Eckelberry, visit her website at http://www.artistlore.com
About Lore Eckelberry:
Lore Eckelberry is a contemporary artist located in Los Angeles, California. Lore uses several media to express her unique viewpoint of life. Her work is featured in several private collections throughout Southern California, Mexico, Germany and Hawaii.
###