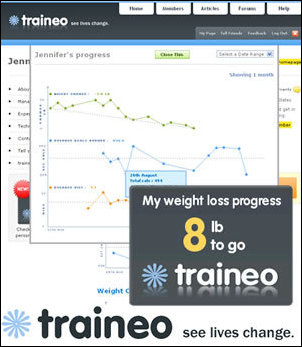 Changing Lifestyle of the Modern Man.
Cambridge, MA (PRWEB) September 12, 2006
Traineo.com, a free online fitness and weight loss tool, was debuted yesterday at an exclusive Biotherm Homme press launch in New York City. The event, held at The Manhattan Classic Car Club, introduced High Recharge, Biotherm Homme's latest skin care product for men, to an audience of more than 200 guests including editors from over forty A-list lifestyle magazines. High Recharge is a lightweight gel moisturizer that helps recharge and energize fatigued, tired skin. High Recharge visibly rejuvenates the skin's natural fitness giving it a stronger and healthier look over time. These same characteristics are at the core of traineo.com, which was presented to guests as the world's best online fitness and weight loss tool and an ideal complement to High Recharge.
The partnership between traineo.com and Biotherm Homme, a division of L'Oréal, was highlighted with a presentation entitled, "Changing Lifestyle of the Modern Man." The study outlined the evolving lifestyles of men over the last five decades with an emphasis on the trend toward living a healthier and more simplified life. Results of a Biotherm Homme online survey indicate that men are very concerned about their overall health. Specifically, most men want to include more exercise in their daily routine and find better ways to stay motivated. As a free and easy-to-use application with a built-in support system, traineo.com offers a solution. More than a robust exercise and diet tracking tool, traineo.com also allows members to choose up to four 'motivators' who receive weekly email updates outlining the member's progress toward his/her fitness goals. Furthermore, thousands of active users and a diverse panel of experts provide a rich database of resources and tips, as well as a lively discussion forum.
"This partnership made perfect sense for us," said traineo.com CEO Alasdair McLean-Foreman. "Our goal is to provide innovative health and fitness solutions via the internet and that complements Biotherm Homme's High Recharge product. Our consumers share a lot of the same interests, especially the desire to live a healthier lifestyle."
About Traineo.com
Traineo.com is a free and intuitive weight loss application that offers effective exercise and diet visual tracking tools. More than a simple training log, traineo.com also provides members with a built-in support system through its social networking community. Members can choose up to four 'motivators' who receive weekly email updates outlining the member's progress toward his/her weight loss goals. Traineo.com also offers resources and tips from the world's leading health and fitness experts through a database of articles and within the active discussion forums. Traineo.com was launched in August 2006 by HDO Group LLC.
About HDO Group LLC
HDO Group LLC is a provider of innovative health and fitness technology and services via the internet. Founded by Alasdair McLean-Foreman, whilst studying at Harvard University and competing for England in Track and Field, HDO Group LLC was formed in 2000 with a mission to offer an exciting new dimension to consumers in health and fitness markets.
Technology by BluBolt
HDO Group LLC partnered with UK based BluBolt (http://www.blubolt.com) to develop the technical components of traineo.com. For more information on the technology behind traineo.com please visit http://www.traineo.com/blubolt.
About Biotherm
Biotherm and Biotherm Homme two brands that help thousands of men and women tap into a new energy that recharges the skin, the body and spirit. Each Biotherm skincare routine is an invitation to discover visibly purer, healthier, and younger-looking skin, day-after-day. Created in Monaco in 1950 and then purchased by the L'Oréal Group in 1958, Biotherm has since undergone continuous development. Today, the brand is represented in over 60 countries, with exceptional success around the world.
# # #