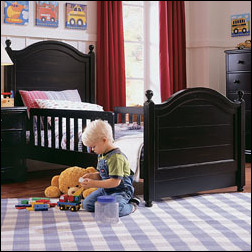 Stanley Furniture is renowned for manufacturing high quality furniture for the entire family
Atlanta, GA (PRWEB) September 12, 2006
KooKoo Bear Kids, Inc., an Internet, catalog, and retail marketer of designer rooms and exceptional gifts, announces the company will begin selling the Young America® children's furniture line from Stanley Furniture Company, Inc. Young America furniture is built to last and easily adapts to grow right along with children as they grow. The Stanley Furniture Company is well known for creating timeless furniture that is practical, beautiful and stays relevant even as tastes and lifestyle changes.
"Stanley Furniture is renowned for manufacturing high quality furniture for the entire family," said Tara Mediate, president of KooKoo Bear Kids and mother of three. "This additional line of furniture extends the choices our customers can make. We now offer a huge selection of furniture for babies and kids, that varies in style and functionality, is highly durable, and exceptionally classy."
KooKoo Bear Kids offers numerous collections of Stanley furniture, including the enchanting Isabella Collection, which features gracious European silhouettes, sophisticated toile fabric panels, and delicate carved ribbons and rosettes. Isabella offers an assortment of unique pieces in a decorative white distressed finish with fluted round posts, turned bun feet and soft curves throughout. Pale decorative striping and light dusting add depth and interest to the finish. The collection includes an armoire, hutch, dresser, oval mirror, baby crib, chest, bookcase, and changing station.
The Ma Marie Collection celebrates the beauty of country French design. Serpentine fronts, accent moldings, fanciful carved legs and cane accents add a light, airy touch inspired by the timeless, eclectic flavor of the Provence region of southern France. The collection features heavily distressed cherry and three painted (antique white, black, or turquoise) finishes. KooKoo Bear will carry the nightstand, desk chair, several styles of beds and mirrors, bookcase, armoire, corner étagère, bureau, dresser chest, crib, and computer desk and hutch.
The Young America Summerhaven collection evokes a cottage feel with a quintessential American design that appeals to all ages. Featuring cotton white rubbed-through distressed finish, gentle scalloping, and bun feet design elements, this collection is a favorite among young ladies. Moms looking for functionality will love the variety of storage options – including open cubbyholes especially sized for CDs, twin bunk beds with storage boxes underneath, bookcase benches, and a bookcase bed. A dresser, mirror, bookcase, chalk/cork board, nightstand, hutch, chest, entertainment cabinet, and desk with chair complete the set.
About KooKoo Bear Kids, Inc.
KooKoo Bear Kids offers designer rooms and exceptional gifts available via the web site, catalog, or retail store. From themed beds with matching bedding of fresh colors and designer fabrics to timeless classics like quilts with hand applied beadwork and embroidery, KooKoo Bear Kids offers hundreds of rugs, curtains, blankets, bedding, and furniture for a totally custom look. Hollywood stars, such as Mira Sorvino, Jennie Garth, and Britney Spears seek out the exceptional designer items such as Rachel Ashwell Shabby Chic luxurious bedding, Fleurville Diaper Jam Bags for Dads (and Moms), Boxy Backpacks and Toddle Totes by Petunia Pickle Bottom, and whimsical pillows from Traditions by Pamela Kline. Custom designed specialties by KooKoo Bear Kids include timeless wooden furniture, snuggly blankets for infants, and zippered booties made of suede and fleece. Gifts for the new mother include soft loungewear, spa slippers, and other items that offer rest and relaxation. KooKoo Bear Kids' gifts feature a signature yellow box with matching grosgrain ribbon bow and handwritten card that indicates the arrival of something special. For more information, visit http://www.kookoobearkids.com, or call 1.800.475.6909.
About Stanley Furniture Company, Inc.
Founded in 1924, Stanley Furniture® has a strong tradition of superior product supported by excellent quality and service. The shipment of orders to retail stores -- an average of two weeks or less -- is among the fastest in the industry. Production facilities are located in Stanleytown and Martinsville, Va., as well as Robbinsville and Lexington, N.C. Stanley Furniture's upper-medium priced furniture is sold to furniture specialty stores, department stores and furniture store chains. Stanley Furniture® common stock is traded on the Nasdaq Stock Market under the symbol STLY.
Media Contacts:
For KooKoo Bear Kids, Contact:
Becky Boyd
MediaFirst PR- Atlanta
(770) 642-2080
For Stanley Furniture/Young America:
Robin Campbell
Phone 276-627-2000
# # #