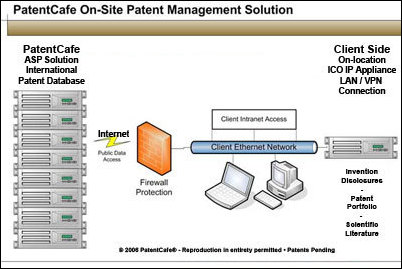 Times Square, NY (PRWEB) September 12, 2006 –-
Intellectual property management software company PatentCafe, http://www.PatentCafe.com, launched the industry's first on-location network server for managing invention disclosures, patents and other corporate intellectual property assets. The announcement of PatentCafe's new ICO™ IP Appliance Server was made this morning at the 2006 Annual Meeting of the Licensing Executives Society (USA and Canada).
The ICO IP Appliance Server is an "out of the box" network server, installed with PatentCafe's IP Appliance Edition of its ICO Suite of patent search and IP management software. Installed behind corporate firewalls, or as a dedicated server in PatentCafe's data center, the IP Appliance Server allows worldwide access to up to 250,000 proprietary documents by a company's authorized engineers, patent researchers, intellectual property strategists, corporate counsel and patent attorneys.
With patent infringement suits being filed at the rate of more than ten per day, and the increasing demands of Sarbanes-Oxley reporting of intellectual property assets, it's critical that corporations take strong management control measures to protect and maximize the value of their inventions and patent assets.
The ICO IP Appliance, the first intellectual asset management (IAM) hardware/software solution, empowers IP asset managers to not only house their most valuable IP assets, they can analyze invention disclosures for patentability, analyze and compare their patent portfolio to a competitor's patent estate, and develop intelligent licensing and infringement strategies.
It's the only industry solution that allows simultaneous searching of a company's important Non Patent Literature (NPL) collections, such as scientific journal articles, interleaving NPL and patents based on relevancy-ranking.
Andy Gibbs, PatentCafe's CEO, noted, "PatentCafe has led the industry in integrated patent search technology and IP management solutions for the last five years. Now, with our industry-first IP Appliance, the leading corporate innovators can access the critical patent-based information needed to maintain their technology and market leadership."
The patent pending ICO IP Appliance Server is much more than a hardware/software shell. It's a virtual mirror of PatentCafe's international patent database index of more than 200,000,000 pages of full text patent data (about 25 million patents), connected through the firewall to interact with PatentCafe's ASP software and patent data center. (See accompanying network diagram.)
The IP Appliance Server automatically indexes the corporation's intellectual property assets against PatentCafe's world-wide patent knowledge-base, using the industry's most advanced Latent Semantic Analysis search technology. It then provides browser-based access to the software, data, and knowledgebase throughout the company's LAN or VPN networks.
Corporations get the behind the firewall security for their most closely held secrets: engineering invention disclosures. With PatentCafe's Artificial Intelligence and SuperBoolean™ engine, users can instantly search, relevancy rank, and analyze their entire invention disclosure database, identifying the most valuable assets that warrant the long-term investment of patent filing.
Gibbs says, "The early-adopter Fortune 100 companies and government organizations we're working with will save the over $150,000 per year by out-sourcing patent database updates and maintenance. They will slash costs of filing patents on invention disclosures that should not be moved forward, while identifying the 'diamonds in the rough' inventions that could be tomorrow's most important technology play."
The ICO IP Appliance Server comes with comprehensive maintenance and warranty programs, and is pre-loaded with PatentCafe's ICO Suite, ICO Portfolio Manager, and the ICO Patent Analytics software modules.
ICO IP Appliance Server data sheet:
http://www.patentcafe.com/actionitems/brochure/ico_appliance_web.pdf
About IP Appliance Server:
http://www.patentcafe.com/index.asp?navid=2&subnavid=38
About PatentCafe®
http://www.patentcafe.com
The PatentCafe brand is recognized worldwide as one of the Web's largest and most innovative intellectual property resources of international patent data and intellectual property management solutions.
PatentCafe publishes the largest line of enterprise-level software applications that help professionals search, develop, manage, exploit, and analyze patents. Its products are used for patent search, patent portfolio management, industry and technology analysis, competitive patent intelligence, and patent-based business information.
Its customers include a Fortune 100 who's who list, and the world's most recognized emerging high technology companies, intellectual property law firms and technology investors.
About Licensing Executives Society
http://www.usa-canada.les.org
Established in 1965, the Licensing Executives Society (U.S.A. and Canada), Inc. (LES) is a professional society comprised of more than 6,000 members engaged in the transfer, use, development, manufacture and marketing of intellectual property.
The LES membership includes a wide range of professionals, including business executives, lawyers, licensing consultants, engineers, academicians, scientists and government officials. Many large corporations, professional firms, and universities comprise the Society's membership.
Licensing Executives Society (U.S.A. and Canada), Inc. is a member society of the Licensing Executives Society International, Inc. (LESI), with a worldwide membership of more than 12,000 members in 30 national societies, representing more than 80 countries.
For more information about PatentCafe, for a web-demo of the Heuristic Boolean engine, or to arrange an interview with Mr. Gibbs, please contact:
Elena Lowe, Editor
PatentCafe®
530-671-0200 ext. 203
441 Colusa Avenue
Yuba City, CA 95991
###