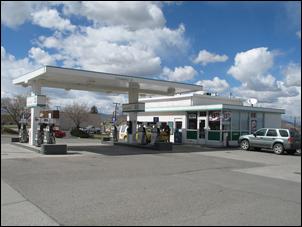 The Sinclair representatives were convinced early on as to the efficiency of the auction process and chose our team due to Higgenbotham's stellar sales history and NAI's worldwide network of commercial real estate professionals
Lakeland, FL (PRWEB) September 13, 2006
Higgenbotham Auctioneers International (HAI) announced today that their firm has been retained by Sinclair Oil to offer at auction 13 fuel service stations/investment properties throughout Montana and Idaho. The auctions have been scheduled for September 25th – September 29th.
According to Jim Owen, Higgenbotham's Western Division Manager, the sale was awarded through a cooperative effort between HAI and NAI Commerce One. Owen stated that he and Randy Waters of NAI worked in concert with Sinclair Oil real estate managers to explain the advantages of marketing at auction and to finalize the sales inventory.
"The Sinclair representatives were convinced early on as to the efficiency of the auction process and chose our team due to Higgenbotham's stellar sales history and NAI's worldwide network of commercial real estate professionals," stated Owen.
Multi-Property- Multi-Location auctions are a Higgenbotham specialty with this auction tour starting at 2pm, Monday September 25 in Bozeman, Montana and then traveling through greater Montana selling properties September 26th & 27 in Great Falls, Lewiston, Helena and Kalispell respectively. According to Higgenbotham Auction Manager John Haney, the Bozeman property will be sold onsite while the Great Falls, Lewiston and Helena locations will be offered from one location in Great Falls, MT.
The Idaho auctions are scheduled on both September 28th and 29th. The Idaho auctions include sites in Idaho Falls, Pocatello and Nampa. The Nampa auction will be held onsite but the Idaho Falls and Pocatello sales will be held together at a site in Pocatello ID.
Interested parties should verify the sales locations by calling Higgenbotham Auctioneers at 1-800-257-4161 or by visiting their website at http://www.higgenbotham.com
Founded in 1959, Higgenbotham Auctioneers International (HAI) utilizes the auction method of marketing to sell real estate throughout the United States and the world. HAI is an affiliate member of NAI Global and enjoys continuing relationships with Fortune 500 clients such as Alcoa, Wal-Mart, and Albertson's Supermarkets, as well as many publicly traded and closely held companies.
NAI Global is made up of 3,500 professionals working out of 300 offices in 40+ countries throughout the world. As the world's leading managed network of commercial real estate firms, "we work together to help our clients strategically optimize their assets," said Waters.
For more information on the Sinclair Oil properties or other Higgenbotham auctions please contact John Haney at Higgenbotham Auctioneers (800) 257-4161 or visit our website at [Auction __Sinclair Oil Auction__Information
###