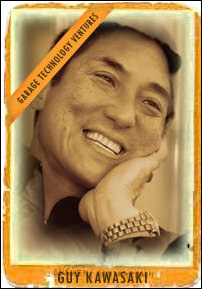 Through his many books, public speaking, and involvement in the entrepreneurial community, Guy has inspired countless entrepreneurs around the world – and we just want to say thanks
CALGARY, AB (PRWEB) September 13, 2006
Cambrian House Inc., a community based software development company, is delighted to announce the induction of startup guru, published author and industry luminary Guy Kawasaki into the National Viking Association, Cambrian House's hall of fame.
"Through his many books, public speaking, and involvement in the entrepreneurial community, Guy has inspired countless entrepreneurs around the world – and we just want to say thanks," Michael Sikorsky, CEO of Cambrian House remarks. "His words of wisdom provided us the guidance to get where we are today."
Guy was presented with a one-of-a-kind National Viking Association hockey card, jersey and puck, in light of his great love of the sport.
The induction also marks the start of Cambrian House's charitable campaign, Follow the White Laptop. Guy is charged with signing the laptop and passing it on to another technology rockstar who will do the same. At the end of the laptop's journey, Cambrian House will auction the laptop for the Youth for Technology Foundation.
For more information about Cambrian House's NVA, visit http://www.CambrianHouse.com/NVA/
For more information about the Follow the White Laptop campaign, visit http://FollowTheWhiteLaptop.com.
About Cambrian House
Headquartered in Calgary, Canada - Cambrian House opened its doors on February 1, 2006. Using the internet to harness the wisdom and participation of crowds, Cambrian House seizes creative software ideas from the ether and builds them into real software. With the use of online market testing, Cambrian House then objectively determines if an idea should be built or be terminated at conception.
Visit http://www.cambrianhouse.com for more information.
If you require additional information or have any questions or concerns, please contact:
Cambrian House
Michael J. Sikorsky, CEO
###