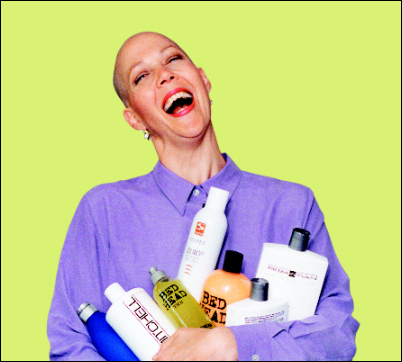 The Great Thing about Chemo
Ferndale, WA (PRWEB) September 19, 2006
Two-time cancer survivor, Bonnie Southcott, is brandishing humor in the fight against the disease by creating a line of unusual greeting cards for chemotherapy patients. Available online at http://www.thegreatthingaboutchemo.com, "The Great Thing about Chemo" cards take a light-hearted look at all of the "perks" of going bald during treatment.
Doctors discovered Southcott's late-stage ovarian cancer when she was seven months pregnant with her second son. Following chemotherapy she posed as the follicly-challenged model for the greeting cards. Bad wigs, tangle-free convertible rides and expensive hair products are all fodder for the cards, which are now available online.
Southcott acknowledges the deeply serious implications of the disease, but says cancer doesn't have to mean the death of laughter in the lives of people living with it. "Laughter helps keep the fear at bay and reconnects us with a sense of well-being," says the 46-year-old mother of two. "All of us living with cancer want to be treated like we're still alive – no matter the prognosis. Fight with us; love with us; laugh with us."
The American Cancer Society estimates that nearly 1.4 million Americans will be diagnosed with cancer in 2006, and many of them will lose their hair as a side effect of treatment. Southcott will donate 10 percent of all card sales to the American Cancer Society, and is in Washington, D.C. this week as a volunteer Ambassador to the American Cancer Society's Celebration on the Hill – a national Relay for Life held at the Capitol Mall on September 20.
About chemo card creator, Bonnie Southcott:
Bonnie Southcott spent more than a decade in radio as a talk-show host, news anchor and writer, before being diagnosed with Stage 3C ovarian cancer in 2000. She translated her experience with cancer into a Web site (http://www.thegreatthingaboutchemo.com) and a 2003 calendar called "The Great Thing about Chemo," featuring the same images used on her chemo cards. Southcott donated all calendar proceeds to the American Cancer Society.
Southcott's ovarian cancer returned in 2005. Following a grueling chemotherapy regimen she now dances with NED -- no evidence of disease – and teaches news writing and public relations at Western Washington University in Bellingham, Washington. In her spare time she can be found chasing her 5- and 8-year-old sons through the woods of the Pacific Northwest, and alligator wrestling her husband, Layne.
###