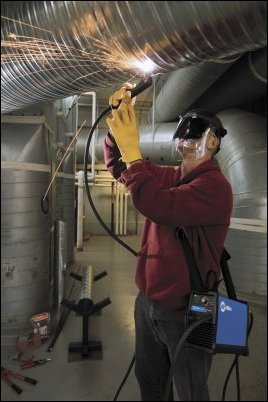 The X-CASE is designed so the user can quickly pack the 375 X-TREME, the cords and related equipment and move on to the next job
Appleton, WI (PRWEB) September 13, 2006
With the introduction of the Spectrum 375 X-TREME™, Miller Electric Mfg. Co. takes plasma cutting to unprecedented levels of portability. Weighing only 18 lbs., the Spectrum 375 X-TREME plasma cutter, provides the cutting capacity of machines twice its size, is light enough to be carried by the included shoulder strap, and versatile enough to connect to any 115V-230V single-phase power supply.
The user only has to select the correct (115 V, 15A or 230V, 50A) Multi-Voltage Plug (MVP™) for the power supply and connect it to the power cord. The MVP can be switched in just seconds without the need for tools.
Rated at 3/8-in. cutting capacity on mild steel and ¼ in. on aluminum (115 V, 20 A or 230 V service), the Spectrum 375 X-TREME is designed to meet the cutting needs of those in maintenance and HVAC, as well as those in construction who need to notch I-beams, cut steel studs, steel roofs or sheet metal. Rated cutting capacity is the speed at which an operator achieves a smooth, steady cut at 10 inches per minute (IPM). At 6 IPM, the Spectrum 375 X-TREME can cut ½-in. mild steel.
An optional drop-tested X-CASE with reinforced corners provides exceptional protection for the 375 X-TREME during transport and storage. Opening from the top, the X-CASE offers plenty of room for MVP plugs, consumable box, eye protection, gloves and other equipment.
"The X-CASE is designed so the user can quickly pack the 375 X-TREME, the cords and related equipment and move on to the next job," says Steve Hidden, product manager, Miller Electric. "The entire package was designed to be the ultimate in portability and versatility."
An internal filter and factory-set regulator eliminates the need for the operator to adjust the air pressure. Once connected to a 90 p.s.i. minimum air compressor, the Spectrum 375 X-TREME automatically regulates internal air pressure to the torch. A standard air connection on the back panel provides for easy gas or air hookup.
Miller's Auto-Line™ technology automatically connects to 115-230 V, single-phase power. Auto-Line also adjusts for spikes or losses in input voltage levels while maintaining a constant cutting arc with very little or no cutting capacity loss. In addition, LVC™ (line voltage compensation) provides peak performance power under variable input voltage conditions (+- 15 percent) for steady cuts and cleaner ending cuts.
"The 375 X-TREME provides maximum flexibility for those who may not know what electrical service is available or who work on both 115 and 230 V supplies," Hidden adds.
The 375 X-TREME plasma cutter is covered by Miller's True-Blue® three-year factory warranty. For more information or to download a product spec sheet, visit Miller's Web site at http://www.MillerWelds.com, call 1-800-4-A-MILLER (800-426-4553), fax 877-327-8132 or write to Miller Electric Mfg. Co., P.O. Box 100, Lithonia, GA 30058.
With headquarters in Appleton, Wis., Miller Electric Mfg. Co. is a leading worldwide manufacturer of Miller brand arc welding equipment and related systems for metalworking, construction, maintenance and other applications. Miller Electric is a wholly owned subsidiary of Illinois Tool Works Inc. (ITW), Glenview, Ill. ITW is a diversified multinational manufacturer of highly engineered components, assemblies and systems.
Editorial Contact:
John Dymale
Insight Marketing
Office: (262) 240-9790
Mobil: (262) 689-9445
johnd @ imipr.com
###