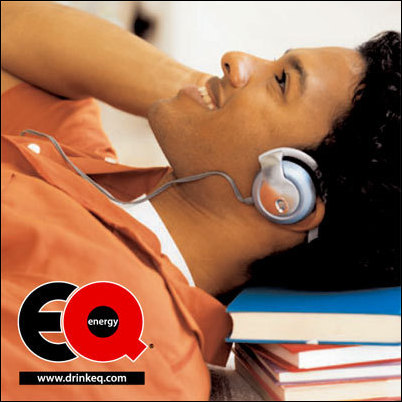 Students have priorities when it comes to products. Make it easy to use, easy to carry, easy to store and easy on the wallet. We all know what it's like to be in college- these are important factors.
Bethesda, MD (PRWEB) September 14, 2006
It has become the mantra of college kids everywhere: whether it's staying up to cram for an exam, working an after-school job or partying into the wee hours of the night, today's students are constantly on-the-go. Undoubtedly, this explains the up-tick in popularity of "energy" products within the last few years. Products that supply the energy needed to keep up with a society dedicated to getting the most out of the least amount of time possible, essentially 'burning the candle at both ends.'
Chad Baker, Director of Marketing at EQ Energy (http://www.drinkeq.com), announced today that the company has entered a partnership with Beyond Bookmarks (http://www.beyondbookmarks.com), a time-saving and creative specialty gift and care package service. Both companies are dedicated to providing unique products to forward-thinking consumers. To promote this relationship and offer an extra goodie for its young and often energy-drained recipients, Beyond Bookmarks offers EQ as an add-on to any pack and will include a sample of the EQ Energy tablet in each of its college and military care packages, as well as in each of its sister company's, Hip Kits (http://www.hipkits.com), care packages.
No matter how much they might deny it, every college student feels it: homesick. With the pressure of living away from home for the first time, making new friends and keeping up with classes, every student appreciates a little pick-me-up from time to time. Mom and Dad are ready to send care packages, kits for final exams and rolls of quarters but run into two problems: "What is it exactly that college kids need and appreciate the most these days?" and "How will I find the time to get it all together?" This is the beauty of Beyond Bookmarks. Cleverly-named packages such as Exam Cram, the Freshman Survival Kit, the Spirit Pack, Dirty Laundry, and 'Get a Job!' supply students with packs containing healthy snacks, much-needed supplies, stress busters and innovative, humorous essentials, all meant to ease college woes.
Understanding the personality and needs of today's student, Beyond Bookmarks seeks out unique products designed to meet the demands of the college lifestyle. According to Baker, "Students have priorities when it comes to products. Make it easy to use, easy to carry, easy to store and easy on the wallet. We all know what it's like to be in college- these are important factors." EQ is an effervescent energy tablet that contains an energy blend of caffeine, taurine and glucoronolactone coupled with essential vitamins and Ginkgo Biloba. It can be dissolved in virtually any beverage including cranberry juice, orange juice, sports drinks and just regular old water. Additionally, because of the tablet's small size and compact packaging, EQ can be easily tucked away in a backpack, pocket or purse whether it's time for class, the library or a late night out.
The addition of EQ to each college pack both through Beyond Bookmarks and Hip Kits, as well as its availability as an add-on to any care package provides students with a convenient, and undoubtedly much-needed, energy boost (to help with those late night study sessions). In addition, because EQ is sugar-free, low carbohydrate and only contains 5 calories, parents and students can rest assured that EQ won't be a contributor to the infamous "Freshman 15." Christy Bradshaw, Beyond Bookmarks Presidents adds, "EQ has really raised the bar on energy drinks. College students are more health-conscious today than ever before…and they've tapped into that. The combination of healthy ingredients, energy boosters, and hip packaging makes EQ a natural fit for our College Packs."
In addition to college care packages, Beyond Bookmarks will also include EQ in all military "Patriot Packs" such as Over There, Stateside, and the Holiday Survival Kit. EQ is easily transported to locations overseas and many military personnel have already commented on its convenience, especially in the field. Because of the extreme heat, it is crucial that troops stay hydrated in the desert. The addition of EQ improves the taste of 'stale' water and also provides the extra boost needed to stay alert in war zones.
Shoppers can order care packages online through http://www.beyondbookmarks.com and http://www.hipkits.com or over the phone at 866-746-5133. Beyond Bookmarks offers a variety of shipping options making it easy to order in advance or last minute. For more information on EQ, please visit http://www.drinkeq.com or contact Teresa Chen at 800.884.5771 extension 234.
###