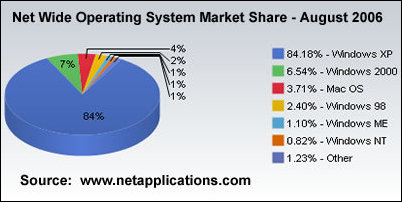 Aliso Viejo, CA (PRWEB) September 18, 2006
Net Applications, makers of HitsLink and publishers of Net Wide Market Share Data (http://marketshare.hitslink.com) announces early September 2006 Operating System usage market share statistics.
Apple tops the news when analyzing recent operating system usage market share numbers. Several months ago Apple had everything going in the right direction; iPod sales were growing, Macs with Intel processors showed promising early results, and iTunes and iPod sales were leading to computer sales - demonstrated by a steady history of growth in Mac OS usage market share.
But the news hasn't been so great with Apple of late. First came the announcement of accounting irregularities. Then, they joined the mass recall of notebook batteries. And now it appears that the early Mac on Intel results aren't as promising as once thought. MacIntel OS usage is growing quickly, and currently has 0.62% usage market share, but overall Mac OS usage is slightly down. Back in December 2005 total Mac OS usage market share was 4.35%, but August 2006 numbers show total Mac OS market share down to 4.33%. While this slight dip may not seem to be a cause for concern to most observers, the fact that Mac usage was steadily growing until this year's stagnation may be indicative of larger Apple problems. iPod sales peaked at over 12 million units for the 4th quarter of 2005, but have stumbled to 8.5 million and 8.1 million units the most recent two quarters. And, iPod's future has a monster competitor entering the battle. Microsoft recently announced its new Zune device which will compete directly with iPod. This could take a huge bite out of Apple's iPod sales, which trends show will also greatly affect Apple computer sales.
Does this spell disaster for Apple? Only time will tell. They do have a history of bouncing back from tough times. Apple also have several new initiatives coming, including a new feature movie site comparable to iTunes and the iPhone which will combine the iPod with a cell phone. Both initiatives have great potential, and Apple's marketing prowess should make the most of them.
Note to Apple: A device that combines an iPod and cell phone is great, but that capability is already widely available. Why not go all out and include an FM tuner, handheld computer with Outlook syncing, camera and GPS capabilities?
Google gains market share but at whose expense?
It appears that Google's market share continues to rise.
According to the Marketshare Stats provided by Net Applications, Google ended the month of August with a 50.49% market share. Who are they pulling the market share from? It appears to be MSN users. Back in August 2005, MSN held 10.39% of the Search Engine market share. A year later, MSN is holding at 6.60% of the market share in the month of August, 2006. Yahoo has held steady for 12 months ending with a 12.92% of the market share. Users are moving towards Google for its search engine as it appears that google adsense has increased steadily over the past year from 2.56% to 3.12% in August, 2006. More and more people are clicking on the sponsored ads to find what they are looking for. AOL has dropped significantly from 2.98% in August, 2005 to 1.03% in August, 2006. Ask.com has dropped from 1.18% of the market share to .99% in August 2006. Google continues it's dominance in the Search Market Share but the search engine that appears least affected at this moment is Yahoo.
Myspace Users continue to spread the word in record numbers!
With the newly launched pay version of the HitsLink Tracker, there have been misconceptions about what the pay version offers. At $3.95 a month, the pay version will set you as a private viewer and it will also block the tracker from being seen on your page. Everything you see on the HitsLink tracker log will be the same. Most of your visitors will still show as private, as the pay account does not allow you to see any further information. But with over 1,000 new sign ups a day, those visitors should soon be displayed so please be patient. The only visitors you will see details for are those who also have the tracker. So spread the word and get your friends and viewers to your profile to sign up. If you are interested in posting a blog, bulletin, or spreading the word of the tracker through commenting, please contact us. We have a special account that you can use so your posts will not interfere will your regular page views recorded in your log. Please send all inquiries and questions to supportms @ netapplications.com. Any Myspace members that want to learn more about HitsLink for Myspace, go to http://www.hitslink.com/signup-ms.aspx.
###