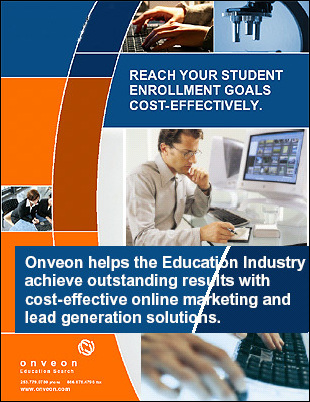 Tacoma, WA (PRWEB) September 19, 2006
Onveon Education Search, Inc. (http://www.onveon.com) today announced that it will appoint Eric Meadows as its Director of Marketing & Business Development. Mr. Meadows will oversee the Company's marketing and business development division bringing more than 12 years of multi-channel and interactive marketing experience to his new role.
Mr. Meadows most recently served as Internet Director for Musician's Friend in Medford, OR, a subsidiary of Guitar Center in Westlake Village, CA which is the largest retailer of musical instruments in the United States with 284 stores. In 2005, Guitar Center had revenues of $1.8 billion. Mr. Meadows personally oversaw the development and management of the eCommerce division which generated $219.9 million in 2005 according to recent 10-K filings by Guitar Center, Inc (GTRC). Mr. Meadows division has been recognized as one of the top 50 eCommerce sites in the world for the past 4 years by Internet Retailer Magazine, one of the Top 10 eCommerce sites for Customer Service by the eTailing Group and has been presented with 7 Silver and 3 Gold Multi-Channel Merchant awards over the past several years.
Alex Rahin, Onveon President, commented on Mr. Meadows' interactive marketing background, noting, "We're very excited to have Eric join our team. He has proven himself to be an industry leader with substantial marketing and business development experience and track record of success. His management experience includes overseeing the growth and development of one of the largest and most successful eCommerce sites in the world today and his familiarity with the operations of a Fortune 1000 company will provide the necessary framework for propelling Onveon though the next phases of development. I expect Eric to play a key role in assisting Onveon in achieving its aggressive growth targets."
Eric was quoted as saying, "This is a wonderful opportunity to enter a market that is on the verge of exploding. The overall percentage of schools identifying online education as a critical long-term strategy grew from 49% in 2004 to 56% in 2005 and online enrollment increased from 1.98 million in 2003 to 2.35 in 2004 according to recent statistics. Distance learning is quickly becoming a preferred method to achieving career growth for people in rural areas as well as those who just prefer the environment of continuing their education from home. And the areas of study include everything from MBA & Business, Arts, Design & Humanities, Computers and IT, Education & Teaching, Health & Medical, Science & Technology, Social Sciences, & Trades & Careers. And with more and more people are choosing to get their degrees online, Onveon makes it easy for students to find out about and get info from colleges such as University of Phoenix Online, Ellis College Online, ITT Technical Institute, DeVry University, AIU Online, Walden University Online and hundereds of others.
Onveon is an innovative marketing, advertising and lead generation company, focused on helping the Education Industry successfully reach student enrollment goals with world-class online student recruiting solutions. Onveon specializes in matching and connecting prospective students with the schools that meet their education goals using proprietary online technologies and strategies. Onveon's online resources include comprehensive databases of schools and programs specifically designed for prospective students looking for education and career options. Onveon's goal is to provide the most cost-effective recruiting solution to the Education Industry; and to build the Internet's top destination to help prospective students and professionals achieve their education and career goals. For more information please visit http://www.onveon.com.
###