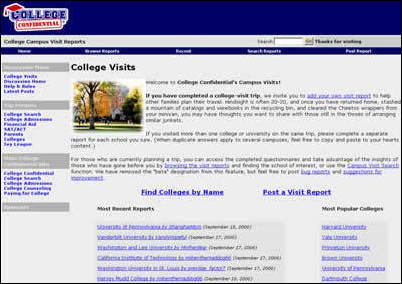 College visit reports are identified by the member's College Confidential screen name
Mishawaka, IN (PRWEB) September 19, 2006
Students and parents can now share details of their campus visits at College Confidential, the Web's leading community for college-bound students and their parents. CC members can enter both "star" ratings and specific comments on many aspects of their college visit experience, such as "courtesy of students" and "appearance of campus." They can also comment on any admissions briefing, classroom visits, and other structured parts of their college visit. In addition, they can add a narrative report to include other visit details, tour guide anecdotes, and so on.
"Since our community began in 2001, high school students and parents have posted their campus visit reports in our discussion forum. Although these posts were some of our most informative and popular content, they were often hard to locate among the millions of other posts," says Roger Dooley, Managing Director and community architect. "We wanted to provide a way for our members to share their experiences in a way that would let other members and guests easily find them both now and in the future."
Now, visitors to College Confidential (http://www.collegeconfidential.com) can browse through reports by college name. Clicking on a link for "Harvard University Visits", for example, takes the viewer to the summary page for Harvard. Ratings for various categories like campus appearance are summarized using a simple "star" system, and viewers can navigate to a summary of comments on one topic or view individual visit reports. The ability to view comments on each category is particularly helpful, says Dave Berry, Director of Counseling at College Confidential and co-author of America's Elite Colleges. "Knowing that some aspect of the campus earned three stars out of five is somewhat useful, but reading the comments of the students and parents whose input went into that rating is much more useful."
"College visit reports are identified by the member's College Confidential screen name," says Dooley. "This enables readers to view forum posts by that member, or even send a private message it the member has that feature enabled." Since all communication is via the screen name, the privacy of members is maintained. Hundreds of colleges and universities are listed.
Reading visit reports isn't meant to be a substitute for actually visiting college campuses, according to CC Senior Counselor and Contributing Editor Sally Rubenstone. "There's no substitute for seeing the school and drawing your own conclusions. Reading about campus visits before you go, though, can identify specific aspects of the school to watch for during your own visit. Afterwards, the visit reports of others give you a chance to compare your impressions with theirs." Rubenstone, co-author of Panicked Parents' Guide to College Admissions, answers many of the questions on College Confidential's popular Ask The Dean college advice column. The College Visit section can be found at http://talk.collegeconfidential.com/visits/ .
About College Confidential
College Confidential is the leading provider of web-based college counseling services, specializing in Ivy League admissions with clients in all parts of the United States and worldwide. College Confidential also provides outsourced college counseling for high schools seeking to improve college acceptance rates, and operates the leading college discussion forum on the Web. College guidance efforts are led by Dave Berry, Director of Counseling, co-author of America's Elite Colleges, and Sally Rubenstone, Senior Counselor, co-author of Panicked Parents' Guide to College Admissions. The College Confidential website includes many free resources for college-bound students and their parents, including reviews of college admissions books, articles about the college process, and the popular Ask the Dean college advice-column.
# # #