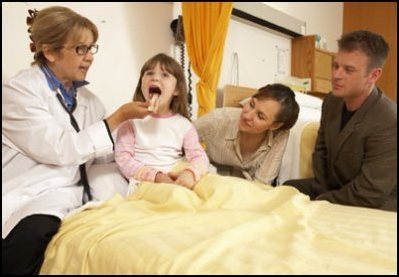 Bethesda, MD (PRWEB) September 20, 2006
In a recent study published by the Journal of the American Medical Association, researchers questioned the necessity of prescribing antibiotics for children with earaches. This goes against the long-thought grain of using antibiotics for treatment and instead examines a process known as "wait-and-see prescribing" (WASP). Doctors, in the United Kingdom and many other European countries, that practice WASP write a prescription but advise parents not to fill it unless the child fails to improve, or gets worse 48 hours after the appointment. Of the utmost importance is that ultimately if a child needs medication, he/she remains compliant to drug regimens and doctor instructions; behavior which can be better achieved through patient health programs such as FLAVORx. Non-compliance can be a key contributor to treatment failures that may result in deterioration of patient health, need for additional consultations, use of extra drugs, additional hospital admissions, higher total costs of care and an increased potential for bacterial resistance.
The study followed 300 children who were taken to emergency rooms with an earache. Half of the children were instructed to fill their prescriptions, while the other half followed the WASP procedure. Reports showed that 2/3 of the children that did not have their prescriptions filled recovered just as quickly as the children that were given antibiotics immediately. These results are quite eye-opening, especially for a society that has recently begun to acknowledge the growing threat of antibiotic resistance as a pressing public health problem.
According to the Centers for Disease Control, over the last decade, almost every type of bacteria has become stronger and less responsive to antibiotic treatment. Improper and over-use of antibiotics are the primary contributors to increases in drug-resistant bacteria. Sensitive bacteria are killed by antibiotics, but in some cases resistant bacteria survive with an ability to neutralize or escape the effects of the antibiotic. That one surviving microbe then continues to multiply in the body and eventually spread to family members, friends and coworkers.
It is important to clarify that the issue here is not to negate the use of antibiotics, but instead to ensure that when antibiotics are needed, they are taken properly. Failure to adhere to a drug regimen or follow doctor instructions further aggravates the possibility of drug-resistant strains. If bacteria are given partial exposure or selective pressure from antibiotics, it enables them to become resistant to low-levels to a point at which they can survive and re-infect.
So how do young patients, like those plagued by earaches, ensure compliance? Studies show that palatability plays an important role when it comes taking medications, especially in children. Most children are not yet mature enough to understand the importance of taking medications, which is why forcing them to swallow a bitter, foul-smelling, and in general, bad-tasting medication can prove particularly stressful and traumatic.
Luckily there is a solution. FLAVORx, Inc is a pharmaceutical flavoring company that has addressed the problem of non-compliance through its scientifically-tested and medically-designed flavoring system for over-the-counter and prescription medications. The company has developed FDA-approved, non-allergenic, sugar-free, dye-free, alcohol-free, and phosphate-free flavors that are safe and effective for all children in combating the existing taste of a medication. In addition to the improvement of taste and smell, studies show that children are more invested in taking medications that have been flavored because they play an active role in making a 'choice' of flavor. In addition, flavoring helps overcome any issues of food/drug interaction that may occur when patients improperly mix medications with food in an effort to improve taste.
The conservative, responsible and proper allocation of antibiotics with methods like WASP, in combination with programs to increase compliance will ultimately aid in the suppression of drug resistant microbes.
FLAVORx is available in over 35,000 chain and independent pharmacies nationwide including Walgreens, CVS, Wal-Mart, Target and Rite-Aid. To date, over 40 million prescriptions have been flavored without any incidence of allergy, adverse reaction or changes in efficacy. For more information, please contact Teresa Chen at 800.884.5771 extension 234.
###