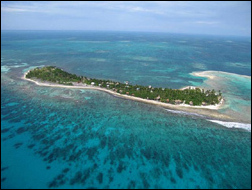 New islands are being listed each day as they become available, and we are very excited to add this as a special dimension to our already successful luxury property section
(PRWEB) September 21, 2006
The trend, led by celebrities such as Johnny Depp, Paloma Picasso, Goldie Hawn and Mel Gibson, ensures total privacy away from prying paparazzi and outer worldly distraction.
"We currently have a number of extremely beautiful and secluded islands for sale. It's the must-have haven for the celebrities and millionaires who crave the ultimate in seclusion, comfort and style." comments James Dutton, Managing Director of duttondirect.com
duttondirect.com, Australia's only true luxury portal is now listing stunning tropical islands as a response to the current trend of purchasing exclusive island getaways.
Islands currently showcased include:
Vatu Vara Island (pictured)
Location: Lau Group, Fiji Islands Vatu Vara is located 60 kilometres South West of Vanua Balavu, 20 kilometres south of Kaibu at Lat: 17° 26'00 S Long: 179° 31'00 W
At 2470.0 hectares
Price: $75M USD
Kaimbu Island Resort
Location: Lau Group, Fiji Islands Lat: 17° 15'00 S Long: 179° 30'00
An 800 acre, 5 star Private Island Resort in one of the most beautiful areas in Fiji.
Price: $38M USD
Andavaci Island (pictured)
Location: Lau Group, Fiji Islands Lat: 17° 11' 60 S Long: 179° 0' 0W
102 acres of stunning freehold island, just minutes from regional airport yet completely private
Price: $12M USD
"New islands are being listed each day as they become available, and we are very excited to add this as a special dimension to our already successful luxury property section" says Mr.Dutton.
duttondirect.com is the site where discerning buyers can purchase ultra luxurious items such as prestige and unique cars and boats, aircraft, antique collectables and exclusive products and services. It currently experiences on average of 7.5 million hits per month, Donations from every private advertisment are made to The Peter Brock Foundation and Steve Erwin's, Widlife warriors charity.
###