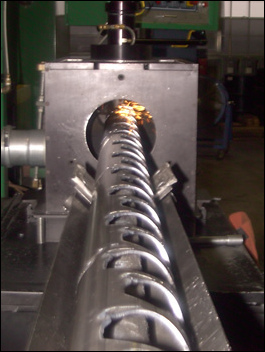 Houston, TX (PRWEB) September 22, 2006
Hunt and Hunt Ltd., announces the completion of a new 36,000 square foot building. The new building located within the Alameda complex, combined with Hunt and Hunt's existing facilities provides around 104,000 square foot of manufacturing floor space.
The facilities expansion includes an additional 80,000 square foot of concrete slab being used for raw materials storage and staging. The additional pipe yard provides a sizeable increase in materials storage capacity.
Recent Equipment Acquisitions
Michael Bowman of Hunt and Hunt stated that plans for the new facility included an advanced custom automated pipe handling system designed to feed a series of machining centers. The automated pipe handling system and new CNC Lathes have been installed and are fully functional.
The facilities expansion is accompanied by the addition of several pieces of new equipment:
3 new Mori-Seiki CNC Lathes
2 Daewoo CNC Lathes
1 Okuma MacTurn 550 Multifunction Turning Center
2 more custom Tubular Laser Machines (7 total)
2 custom built milling machines
1 Daihen Almega AX-V6 robotic welder
The new custom tubular laser machining centers incorporate the latest laser machining technologies, designed for precision, high performance, rapid profile cutting of complex geometries, fast rotary indexing and heavy duty service. These new laser cutting centers are designed for volume laser machining of tubular stock with up to a 30ft x 6.25in diameter work piece capacity.
The Daihen Almega AX-V6 robotic welder has multiprocess capabilities. The new robotic welder features reduced cycle time, a full range of motion (6 axes) and vibration control that virtually eliminates vibration even when stopping at maximum speed.
Located in Houston Texas, Hunt and Hunt Ltd remains focused on "Cutting into the Future" and supplying customers with quality through state-of-the-art equipment and well trained employees. They maintain an aggressive Research and Development program with a steadfast dedication to advancement in machining methods and total customer service.
###