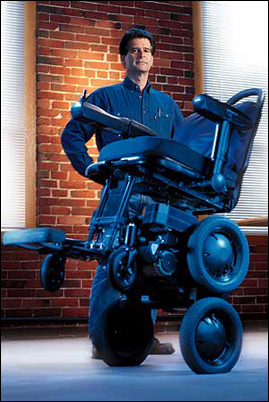 Beverly Hills, CA (PRWEB) September 22, 2006
Disability Rights Advocates for Technology (DRAFT) and Mr. Noel Lee, Headmonster of Monster Cable will host a dinner on Thursday, October 12 at the Los Angeles Universal City Hilton Hotel to honor Dean Kamen creator of the iBOT mobility system for his role in improving the quality of lives of people with disabilities.
The iBOT mobility system is the most innovative advancement in mobility for people with disabilities in history. The iBOT will raise up on two wheels balancing itself allowing its user to interact with others at eye level. It will easily climb curbs and will even climb stairs and utilizing its four-wheel drive it allows users to traverse the roughest of terrain including sand, gravel and grass.
Dean Kamen's continued leadership championing the benefits of science and technology for humanity and his dedication to improving the lives of others is a beacon of hope for all of those with disabilities for a quality of life never before dreamed of.
All proceeds from the evening will benefit DRAFT's Segs4Vets program which donates Segways to United States soldiers returning from service in Operation Iraqi Freedom and Operation Enduring Freedom who have through their service to our country incurred an injury which has resulted in disability and difficulty walking.
Disability Rights Advocates for Technology , a 501(c) (3) Public Charity, is an advocate for the rights of people with disabilities and a champion of universally designed technology solutions which will allow them the opportunity to more fully participate in our society and enhance the quality of their lives.
For more information contact Fred Kaplan at 818-325-0222 or Jerry Kerr at 314-965-4938
Disability Rights Advocates for Technology and Mr. Noel Lee, Headmonster of Monster Cable will host a dinner on Thursday, October 12 at the Los Angeles Universal City Hilton Hotel to honor Dean Kamen creator of the iBOT mobility system for his role in improving the quality of lives of people with disabilities.###