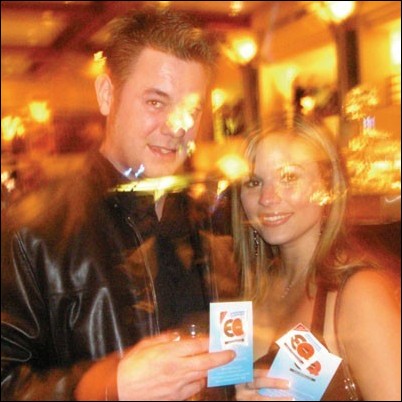 Bethesda, MD (PRWEB) September 21, 2006
The fabulous Red Rock Mansion will serve as the "finish line" for NASCAR drivers and guests following the Smith's Las Vegas 350 Craftsman NASCAR Truck Series race on Saturday, September 23. Them Boyz Network, LLC, a Las Vegas-based company, will sponsor race car driver Chase Montgomery and serve as host for this high-end after-party.
With attendance expected to near 60,000 and The Speed Channel's broadcasting of the race, the event will provide national exposure for Them Boyz Network and its newest product, EQ Energy, an effervescent energy drink tablet that is revolutionizing the fast growing, $8 billion energy drink market.
A signification portion of EQ's success can be attributed to the introduction of the product in party and club atmospheres. Consumers have reported that EQ mixes better than most competing energy products with alcoholic and non-alcoholic beverages, while providing the sustained energy needed to party and work longer. EQ can be dissolved in virtually any drink, a flexibility that allows all consumers to enjoy EQ regardless of personal taste. EQ is currently available nationwide in select retailers such as RiteAid/GNC and soon in Meijer Stores in the Mid West, as well as online at Amazon.com.
Them Boyz Network and its affiliate companies will utilize this occasion to formally launch EQ to the Las Vegas market. A cross-section of individuals, including hotel executives, race car celebrities, as well as the Them Boyz Network and EQ company executives are expected to attend this upscale party. The posh and luxurious setting of the Red Rock Mansion will feature white tigers, lavish food and drink, and of course EQ, making this one of the most exciting and entertaining events of the year. Two Olives Entertainment, an Arizona-based events planning company, has organized this exclusive event, "To Walk the Red Carpet" in an effort to establish a presence in the party capital of the world, and has spared no expense in order to ensure its success. The event begins at 10 p.m. and the party won't let up until 3 o'clock in the morning.
The Red Rock Mansion is noted for its elegance and has served as a party venue for a number of well-known celebrities. Them Boyz Network, LLC is a partnership that arose from the many business contacts its founders have accumulated over the years. These events reflect the company's ability to effectively network and enter into joint ventures with other corporate partners. For additional information on the schedule of events, please contact 702-406-8672 or 702-361-1589.
About Them Boyz Network:
Them Boyz Network, LLC was formed by a group of individuals that have worked in a variety of professions and established business relationships with numerous parties over the last 25 years. Their partnership reflects the gathering of their resources- a network of business contacts that enables them to complement the goals and objectives of their clients. The partners from TBN have backgrounds in sales, marketing, promotions, business and economic development, banking and finance, and education. The relationships that they have formed in these areas allow them to efficiently undertake projects through joint ventures and partnerships.
About EQ Energy:
Having created a new niche in the energy drink market, EQ Energy has hit the ground running. The effervescent energy drink tablet capitalizes on the innovation behind delivery systems like effervescence for nutrient and vitamin uptake. EQ is small and discrete and easily stored. In addition, EQ can be mixed in virtually any drink to enhance the existing flavor. The product is low-calorie, sugar-free and low-carbohydrate- facets that almost all consumers are concerned with in trying to keep up with fast-paced and healthy lifestyles. With a blend of caffeine, taurine and glucoronolactone, as well as essential vitamins and Ginkgo Biloba EQ is a healthy alternative to many of the sugar-packed drinks currently on the market. For more information, please visit http://www.drinkeq.com.
###