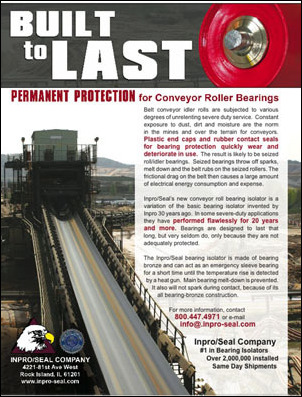 Minneapolis, MN (PRWEB) September 23, 2006
Inpro/Seal Company, the Rock Island, IL, based manufacturer of bearing isolators has announced their new Belt Conveyor Idler/Roller Bearing Isolator.
Result Of Continuous R & D
The result of direct customer request, input and feedback, continuous R&D and extensive field testing and trials, the Belt Conveyor Idler/Roller Bearing Isolator was designed to increase productivity, save energy and increase safety in coal mining, ore mining, aggregate and related applications that use belt conveyors in their bulk material handling applications.
Ineffective Sealing Methods
Before the advent of the Belt Conveyor Idler/Roller Bearing Isolator, end users had to deal with outdated sealing methods, in particular elastomeric seals to protect idler bearings. Small, spring loaded, contact seal, elastomerics are tiny plastic devices that make contact and rub on the exterior of the idler roll while operating.
Elastomeric seals are widely used because they are cheap and because there has not been anything better available -- that is until now. As a contact seal is prone to failure and needs constant maintenance, the entire bearing protection system is somewhat precarious. And when an elastomeric seal quits working, undesirable things happen, much of it without warning.
Use Of Conveyor Idlers
Belt conveyors are in service, around the world, working 24/7 to "trough the belt" or transport bulk materials in coal mining, ore mining, aggregate, hard quarry and related applications including; concrete, asphalt, fertilizer, salt, recycling, wood, pulp and paper, electric utility, grain, construction, agricultural, steel and general industrial.
These belts are typically supported by three conveyor rollers, or idlers, positioned at intervals as close as three linear feet. One roller is horizontal and other two are positioned on either side, at an angle necessary to carry the burden.
Depending on the specific application, they operate above and under ground and may extend for many miles over mountainous terrain, roads and streams. There may be as many as 10,500 bearings and bearing protection devices on the conveyor rollers per mile of run. In the mining industry it is estimated that each mine has 3-4 miles of conveyor with idlers strung out the entire length of the belt.
Failure Is Not An Option
When an idler fails, it is most likely be the result of bearing damage caused by contaminants (dust or moisture) entering the bearing environment. Chances are the plastic has failed by wearing out and has grooved the shaft or has burned to a crisp at the point of contact.
Once an elastomeric seal fails, contaminants are drawn into the housing where they condense and contaminate the lubricant and cause the bearings to fail. The end result is a seized roll, belt damage or worse. The idler can burst open, and if it does, metal-on-metal contact can cause a fire. To counter, most mining operations employ greasers that work - around the clock - to try to keep idler bearings lubricated in an effort to try to make contact seals work. Because lip seals carry a 100% failure rate, eventually end users will have to deal with catastrophic belt failure no matter what they try.
Enter The Belt Conveyor Idler Roller Bearing Isolator
To counter, Inpro/Seal took their bearing isolator, a compound labyrinth bearing protection device, that they invented (and patented) in 1977 and modified it for use bulk solid applications. A non-contacting, non-sparking bronze labyrinth type seal, it provides safe, permanent bearing protection that never wears out and requires only a negligible amount of energy to operate.
In the event of main rolling element bearing failure, it can also operate as an emergency sleeve bearing for a short time. Because it is located completely exposed at each end of the idler, generated heat can be measured with a thermographic sensor
No Equipment Modification, Easy To Install
The Belt Conveyor Idler Roller Bearing Isolator is custom-engineered to suit individual applications. It is easy to install because it conforms to existing clearances, housings and bearing patterns. It can be retrofitted to any existing manufacturers top side and return frame assemblies in any belt width or troughing angle for any brand of conveyor.
It is available in any idler configuration, including: CEMA B, C, D and will fit any idler type including: transition, impact, troughed, training, return belt, flat carrier, impact, rubber cushion return, self aligning, self aligning return, offset center roll, picking and feeding,, unequal length troughed, wire rope, wire rope return, low profile, "V" return idler, variable trough, rubber disc, ceramic, two, three and five roll garland, live shaft and side guide conveyor idlers.
Contact Seals Are Not Cheap
As a contact seal, elastomerics may have a low initial price. However, this represents only a small part of the total life cycle cost. A single failure after it seizes can cost more than dozens of bearing isolators. Plus, it consumes a great deal of electrical power to accommodate normal rubbing components. In fact, a single seal, when effectively sealing will consume on average, 147 watts of power. Bearing isolators on the other hand do not contact and consume almost no power.
About Inpro/Seal
Inpro/Seal Company is the originator and the world's number one manufacturer of bearing isolators, used to protect motor and pump bearings, machine tool spindles, turbines, fans, gear boxes, paper machine rolls and many other types of rotating equipment.
Of the two million bearing plus isolators delivered to date, most of them continue to be in operation in process plants worldwide, where end users continue to report significantly reduced operating costs with increased productivity and reliability. Inpro/Seal protected bearings have proven to run 150,000 hours (17 years) or more, eliminating the need for costly maintenance and repair. Documented cases show that a plant can much more than double the mean-time-between failures (MTBF) and reduce maintenance costs by at least half, with users reporting an extremely high ROI.
Signoff
For more information on Inpro/Seal Bearing Belt Conveyor Idler Roller Bearing Isolators or Information on Why Lip Seals Are Obsolete, contact: Jason Putnam at: Inpro/Seal Company, P.O. Box 3940, Rock Island, Illinois 61204. Phone numbers are: (800) 447-0524 or (309) 787-4971. Fax number is: (309) 787-6114. Website: http://www.inpro-seal.com or http://www.bearingisolators.com
# # #