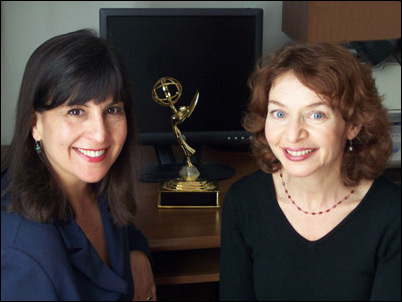 We specialize in delivering reality-based dramatizations about complex social issues and interactive
San Francisco, CA (PRWEB) September 26, 2006
As companies across the nation paid almost $48 million in Sexual Harassment "merit resolution" awards in 2005, Life Theatre Services founder Cynthia Cristilli and business partner Molly Goode staged their own branded reality show on this topic in California businesses.
"We specialize in delivering reality-based dramatizations about complex social issues and interactive "talking back" educational workshops," says Cynthia Cristilli. "Our programs offer an accessible and safe way in which participants can engage in the learning process. Whether it's Sexual Harassment, HIV/AIDS, or Domestic Violence, an hour's worth of telling cannot achieve what ten minutes of showing burns into memory," says Cristilli.
"What's unique about Life Theatre's training approach is that real-life illustrations are performed by an ensemble cast of professional actors. A trained facilitator stands "outside the dramatization" to lead the audience discussion with the characters and reinforce key training points," says Molly Goode. " While scripted to demonstrate some of the subtle and not so subtle issues taking place onstage, the actors are free to improvise. We're never sure where the audience will go during the 'talking back' discussion," says Goode.
Fueled by California Governor Arnold Schwarzenegger's signing State Assembly Bill 1825 into law effective January 2005, Cristilli and Goode researched and then designed a series of real-life illustrations about Sexual Harassment to help bring California businesses with 50 or more employees into compliance by year-end. They continue to help clients meet the statute's ongoing training requirement.
Engaging clients as diverse as their company's repertoire, Cristilli and Goode's training reality-shows have garnered accolades—from internationally recognized financial, hospitality, health care and pharmaceutical corporations—to law firms, educational and non-profit organizations. The team won an Emmy Award for Outstanding Achievement in Current Affairs for a "Talking Back" series segment co-produced with ABC Affiliate KGO/Channel 7, San Francisco during 1999.
Recognized as pioneers in bringing compassion and sensitivity to HIV/AIDS Awareness Education, Life Theatre Services spotlights real-life training solutions on Diversity, Ethics, Gender/Sexuality Bias, Work and Health Issues, Aging, Senior Care & Family, Sexual Harassment, Customer Service, Conflict Resolution, Employee Empowerment, Domestic Violence, and Substance Abuse.
To schedule an interview with Cynthia Cristilli and Molly Goode, contact Nancy Dyal at 415.533.7124.
Life Theatre Services is a San Francisco, California-based private company founded in 1992. The company provides customized real-life training solutions about complex social issues to corporations, educational institutions, and non-profits. Life Theatre Services, 658A Green Street, San Francisco, CA 94133.
###