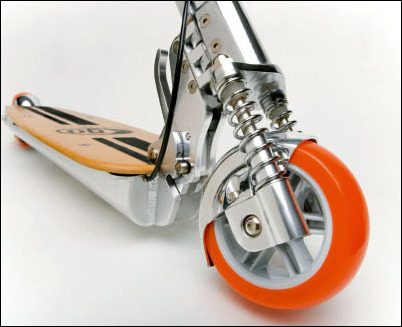 Las Vegas, NV (PRWEB) September 25, 2006
For the average consumer, the Electric Vehicle (EV) is a big tease. They promise low cost, enviro-friendly fueling, yet ironically, they are too expensive for most to buy.
George Clooney drives a $100K EV Tango, and the highly publicized Segway electric scooter sells for $5,000 a pop. But, when in comes to owning an electric vehicle, it has been tough luck for the average consumer -- until now. Enter the Go Motorboard 2000X, the world's most advanced, ultra lightweight -- and affordable -- electric vehicle (EV). Go Sporting Goods Inc of Carlsbad, California has created the only electric scooter on the market weighing under 20 lbs., priced at $399, and designed for daily, urban, adult commuter use. The Motorboard will be featured in the New Products Pavilion at the Interbike tradeshow in Las Vegas, NV on September 27-29, 2006.
With sky-high gas prices, global warming, and the politics of fossil fuels, it seems that electric vehicles would be looking increasingly seductive these days. However, they have largely remained the playthings of a few environmentalist Hollywood movie stars and Silicon Valley millionaires, folks better equipped to handle the hefty price tags and happy to pick up politically correct, exotic toys.
The 2000X is powerful, fast, lightweight, portable, and virtually silent. This unique combination of features makes it ideal for urban transportation used alone or paired with mass transit systems. At 19 lbs., it is lightweight and easily foldable to carry and stow under subway seats, bus seats, under desks, or in car trunks. Its silent transmission makes it ideal for business and academic campuses, and has made it the vehicle of choice for the movie studio set and university students and hospital doctors. It travels up to 15 miles per hour, has a range of 5-7 miles on a single, 90 minute charge, and rides on two polyether, no-flat, bullet proof, signature orange wheels. Go Motorboards has gained a cult following worldwide and has been distributed primarily online.
###