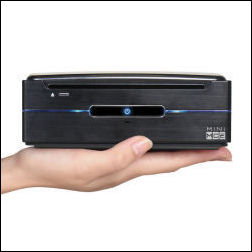 You can put a MiniMCE media center in places limited only by your imagination, in the bedroom, on the bookshelf next to the TV, strapped on to the back of your plasma TV, the list is virtually endless
San Marcos, CA (PRWEB) September 25, 2006
Pcalchemy introduces their new line of MiniMCE™ Media Centers! Pcalchemy has combined the power of Microsoft® Windows® XP Media Center Edition 2005 with the latest mobile on the desktop technology (MODT) to provide a full featured digital entertainment experience in an extremely small package.
The line currently consists of 3 models, M1B, M1S and M2B, all under the size of your typical dictionary. The smallest one is a mere 6.5"square and 2" high and literally fits in the palm of your hand! With such a tiny footprint, and a great combination of built-in and bundled components and capabilities, this unit is ready to slide into entertainment centers anywhere.
Pcalchemy's CEO, Greg Messner, said," Our goal was to design an extremely small line of media centers without giving up the performance of your typical full sized media center. This was accomplished by utilizing the latest mobile on the desktop technologies, such as, the Intel® Core™ 2 Duo mobile processor and Hitachi's notebook hard drives designed for 24/7 use. The end result surpassed our expectations."
"You can put a MiniMCE media center in places limited only by your imagination, in the bedroom, on the bookshelf next to the TV, strapped on to the back of your plasma TV, the list is virtually endless", said Messner.
The MiniMCE™ Mini Media Centers are available now. Pcalchemy ships each MiniMCE™ system within 2 business days of order. This is extremely fast compared to the industry norm of 5-10 business days.
About Pcalchemy, Inc.
Pcalchemy is a leading retailer and system builder specializing in multimedia systems and hardware components and is dedicated to bringing quality media center and HTPC products to the consumer. To learn more, please visit http://www.pcalchemy.com
Contact:
Greg Messner
CEO and Founder
760.752.1393.
###