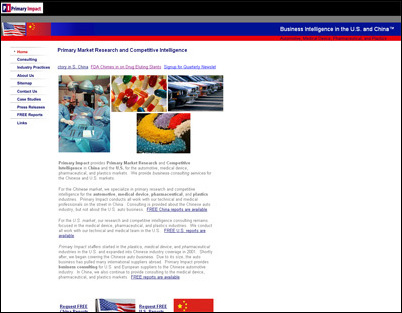 The best business decisions are made with firsthand information
Wayne, PA (PRWEB) September 26, 2006
Primary Impact, a research firm specializing in primary competitive intelligence for the automotive, medical device, pharmaceutical, and plastics markets, has expended its operations to keep in pace with the growing need for firsthand fact-based information for market research in China.
As more companies based in the United States open worldwide manufacturing centers in China or sell to the growing Chinese domestic market, the need for reliable business consulting, strategic planning, and accurate market research in China is increasing. To address this need, Primary Impact has expanded its China operations to provide customized primary research.
For companies seeking competitive market intelligence, finding an experienced and reliable source can be difficult. Primary Impact's unique approach of having professionals trained in intelligence gathering, in the technical and/or medical fields, and who are culturally literate, sets it apart from other companies selling market intelligence for competitive advantage in China.
Primary Impact specializes in the automotive, medical device, pharmaceutical, and plastics industries, providing a comprehensive suite of business intelligence consulting services. The company uses highly qualified intelligence professionals who are based in China and who have technical or medical backgrounds relevant to the client's needs. "The best business decisions are made with firsthand information," says Anthony Napoletano, Managing Member of Primary Impact. "That's what we supply." The company uses a "feet on the street" approach, based on information gathered firsthand by medical or technical professionals skilled in gathering business intelligence.
Primary Impact offers a variety of client services, including benchmarking, competitive intelligence, distributor selection, competitive manufacturing costs, market assessment, and a number of client specific services that are vital in the competitive global market. Clients include Fortune 1000, mid-sized, and smaller companies. Besides offering market research in China, Primary Impact also offers market intelligence services in the United States, gathering competitive and market information in its core industries – automotive, medical device, pharmaceutical, and plastics.
The company's website, Primary-Impact.com, offers free China reports, case studies, and detailed descriptions of client services offered in China and the United States.
About Primary Impact:
With over 20-years experience and over 150 satisfied customers, Primary Impact's expanding staff of research professionals is poised to serve a developing marketplace well into the next decade. As a recognized global provider of competitive intelligence with deep roots in the Chinese culture, Primary Impact continually exceeds client expectations and outpaces the competitive intelligence market in China and the US. For more information please visit Primary-Impact.com.
###