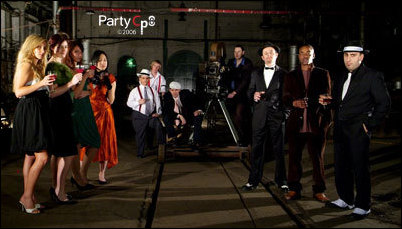 We've incorporated Dov's course into PartyCp8
(PRWEB) September 27, 2006
PartyCp8 announced an innovative addition to their already revolutionary approach to film making education.
Adrian Bertino-Clarke, PartyCp8's Director, said: "We've hired the best independent film instructor in the world. All our students will benefit from his amazing skills."
For over a decade, Dov S-S Simens has been Hollywood's greatest film instructor. Voted "America's #1 Film Instructor" by the National Association of Film Schools, and having taught at USC, NYU, UCLA and over 18 other major universities and film schools around the world, Dov S-S Simens has been revolutionizing the film industry with his 2-day Film School that packs four years of film education into a single weekend.
"We've incorporated Dov's course into PartyCp8," Mr. Bertino-Clarke added. "Our graduates will now have the chance to join the ranks of international film celebrities that have gone through Dov's Master Classes."
Dov's Grads - which include the likes of Quentin Tarantino ("Kill Bill"), Guy Ritchie ("Snatch"), Will Smith, Kirk Jones (Director of "Waking Ned Devine"), Chris Nolan (Director of "Memento"), Paul Brooks (Producer of "My Big Fat Greek Wedding"), the makers of "The Blair Witch Project," "The Matrix" trilogy and many others - have gone on to shoot, produce and direct films that have grossed over $6 BILLION at the box office.
One of the greatest filmmakers of all time, Orson Welles, said, "Everything you need to know about film making can be learned in two to three days."
"Dov does it in two," said Adrian Bertino-Clarke. "From idea to final print, in just two days students will immediately learn and understand how to shoot, produce, direct, finance, market and distribute your film - whether your budget is $5,000, $500,000 or $5,000,000. Once they have the facts, they need to put it all into practice – that's where PartyCp8 fits in like no other film school."
At PartyCp8 students receive all necessary equipment, hands-on mentoring skills and infrastructure to produce a commercial feature film suitable for international theatrical distribution.
Dov is not the only Hollywood instructor hired by PartyCp8 to come to Sydney next March. Last month they brought Jerry Jeffress, a three-times Academy Award winner special effects cinematographer. Additionally, UCLA provides another 15 film industry professionals who lecture the Sydney students LIVE from LA via two-way video-conferencing.
"To top it off, we have great Australian instructors to complement a fantastic line up. Together with the latest HD Panasonic P2 cameras and all necessary lighting, sound and editing equipment, we believe our students will have the best chances to successfully launch their professional careers," he said.
The first PartyCp8 feature film will premiere in May 2007.
For more information: contact Adrian Bertino-Clarke on +61 2 92094312
PartyCp8 website: http://www.partycp8.com
Press Kit: http://www.partycp8.com/presskit/presskit.zip
###