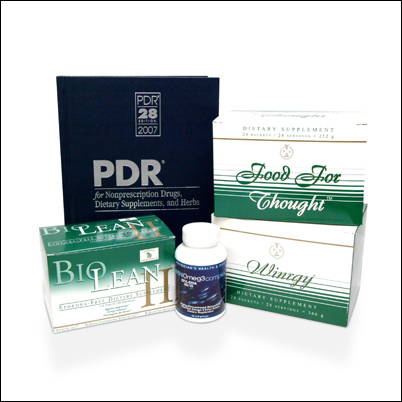 Plano, TX (PRWEB) September 27, 2006
Upholding its position as a leader in the wellness industry, Wellness International Network's (WIN) complete line of nutritional supplements are listed in the 2007 Physicians' Desk Reference® for Nonprescription Drugs, Dietary Supplements and Herbs (PDR®) for the 12th year.
WIN's nutritional line offers premium products for targeted needs, including weight management -- WIN's BioLean products are exclusively featured in the weight management section of the PDR-- sports and fitness, mental fitness, stress management, and preventive nutrition. Combining the latest research and technology with proprietary blends of the best ingredients and backing them by a satisfaction guarantee, each of WIN's products reflect the needs and desires of today's consumers -- total wellness.
Found in nearly every physician's office, hospital and pharmacy in the United States, the PDR® is the authoritative reference for health care professionals and has been for decades. The information included in the PDR® is expansive, informative, and widely relied on by professional markets as well as many product retailers and distributors. The 2007 edition, recently released, offers comprehensive descriptions of all WIN's nutritional products and also contains a listing of active ingredients, recommended dosage and usage instructions, and any necessary warnings for each product listed. WIN's nutritional line will also be available to physicians via the their medical website and to consumers starting in 2007. Use and share WIN's results-oriented products with confidence with even more technical information found in this authoritative and reliable reference for healthcare professionals.
WIN Products listed in the 2007 Physicians' Desk Reference® for Nonprescription Drugs, Dietary Supplements and Herbs include Accelerator™, BioLean II®, BioLean Free®, Clarity®, DHEA Plus™, Elasticity®, Elixir®, Essential®, Feminine®, Flexibility®, Food For Thought®, LipoTrim™, Lovpil™, Masculine®, Mass Appeal™, Phyto-Vite®, Protector®, ProXtreme™, Relief®, Satieté®, Sleep-Tite™, Sure2Endure™, Tranquility™, WINOmeg3complex™, and Winrgy®.
About Wellness International Network, Ltd.
A privately held company specializing in health and nutritional products, Wellness International Network, Ltd. is headquartered in Plano, Texas, with its European affiliate, WIN Worldwide BV, located in Hoofddorp, Holland and its South African affiliate, Wellness International Network S.A. (Pty) Limited, located in Johannesburg, South Africa. Founded in 1992 by Ralph Oats and his wife, Cathy; WIN operates in many countries throughout North America, Europe, Africa and Asia, and is far and away the forefront leader in global network marketing. For more information on WIN products, services and business opportunities, visit web.winltd.com.
###