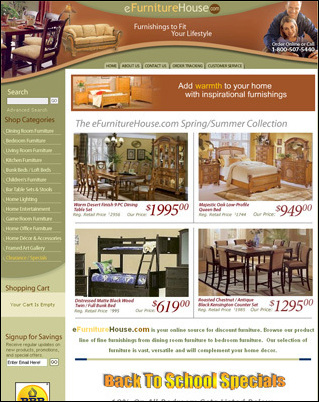 Orange, CA (PRWEB) September 27, 2006
The ability of online furniture retailers to buy large quantities at wholesale prices and conduct business without the expenses of physical locations and showrooms has ushered in new standards for value. Consumers are demanding higher quality pieces at continually diminishing prices. Online showroom eFurnitureHouse.com has pounced on this opportunity in recent years, offering discount prices on top quality goods. Their latest effort has been to expand their top brand children's furniture selection and introduce a new line of Indonesian carved teak furniture.
At the forefront of the children's furniture expansion is an improved collection of bunk beds for kids. These are available in an enormous assortment of colors, finishes, sizes and styles, including metal bunk beds and student loft beds. The bunk beds for kids are also customizable with a range of extras to construct matching bedroom sets.
The exquisite line of Indonesian carved teak furniture includes authentic imported items like teak dining room furniture and teak coffee tables. The hand-carved detail on the wide assortment of rustic teak Balinese furniture can be as much of a conversation starter as it is a beautiful and comfortable addition to any living room or den.
Some of the biggest sellers at eFurnitureHouse.com are the dining room table sets and dining counter sets. The site is proud to boast one of the largest such collections online, including teak furniture for the dining room and pub bar tables.
Due to the convenient location of the eFurnitureHouse.com headquarters, they are able to pass more savings along to their customers as well as expedite the shipping of orders. Company spokesperson Jason Khouri explains, "eFurnitureHouse.com is centrally located in Southern California close to our furniture suppliers. We have the ability to introduce new products as soon as they hit the market at the lowest possible price. As a result, our products ship from our warehouses at one of the fastest rates in the industry."
In addition to the fabulous new line of Indonesian carved teak furniture and top brand bunk beds for kids, eFurnitureHouse.com offers huge selections of living room and kitchen furniture, lighting, framed art and game room items. They stock a large inventory of adult bedroom furniture sets including modern bedroom sets and solid wood bedroom sets.
Shoppers can find some of the best prices on coffee tables at eFurnitureHouse.com, where their expert designers have found unique retro coffee tables and even stone and glass coffee tables to complement every style of décor.
For one of the largest online selections of top quality and premium brand furniture at discount prices, please visit eFurnitureHouse.com.
About eFurnitureHouse.com:
For top quality furniture in every category and style, eFurnitureHouse.com offers unbelievably low prices and fast shipping on all products. Their interior decorators are constantly buying the latest furniture styles and listing them on the website before they can be displayed at other popular furniture showrooms.
###