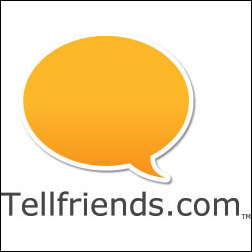 San Francisco, CA (PRWEB) September 28, 2006
Tellfriends.com launches as the world's website for things we tell friends. The mission of our Web 2.0 website is to spread infokarma throughout the world -- one posting at a time. To accomplish this, we allow users to post helpful, trusted information on any topic in any city in the world. In addition, we are integrated with the most popular photo and video sharing sites and user recommendation sites to aggregate the most trusted, helpful information all in one place.
We've done it all our lives. Now we can do it online. Tell friends about anything and everything you would and wouldn't recommend in everyday living. Examples of helpful, trusted information on Tellfriends.com include:
The most recommended restaurants and bars in your city.
A 'fad' diet prescribed by a doctor to loose 30lbs.
The best shopping deals in town.
A secret affordable boutique resort on a beach in Thailand.
Video of a sure way to stop a baby from crying in less than 5 seconds.
How to improve your credit score with a phone call.
The easiest way to clean a George Foreman grill.
As we all know, there is nothing more powerful than helpful information from a trusted friend to make the right decisions in life. In fact, there has never been a better time than now to spread infokarma in our increasingly complex and overwhelming world. Together, we can help each other live simpler and happier through infokarma.
Realizing this, we've created Tellfriends.com to multiply the power of this helpful, trusted information by thousands, and hopefully millions. This is our movement and what our founder, James Lim, has coined infokarma™. Tell friends. Help friends. They'll help you.
How it works:
1) Tell friends about anything, anywhere in the world.
2) Rate how likely you would recommend the information to a friend.
What makes Tellfriends.com different:
We allow friends to talk about anything.
We have a database of every city in the world and allow friends to talk about things anywhere in the world.
We designed Tellfriends.com to be used by anyone regardless of gender, age, race, or background since everyone in the world tells friends things to help each other.
Our movement is to spread infokarma around the world to help each other simplify and happify our lives.
Benefits of Tellfriends.com:
Share and access helpful, trusted information from anywhere in the world.
Increase your network of helpful, trusted friends in the world.
Expand your awareness of helpful information in the world.
Save forever all those things we tell friends and friends tell us.
Tell things to the world, to individuals, or to groups of friends.
About Tellfriends.com:
Tellfriends.com is the world's website for things we Tellfriends.
Our movement is a result of a few passionate people wanting to plant an altruistic seed of change to help others by combining sincere passion and natural social processes with technology to spread infokarma™ around the world.
We are a group of 3 people and a baby and all have day jobs (with the exception of the baby), but have passionately dedicated every minute of our 'free' time to creating something bigger than ourselves. Through infokarma, we hope people around the world will continue to tell friends to help friends using Tellfriends.com. Together, we can simplify and happify everyday living in the world.
###