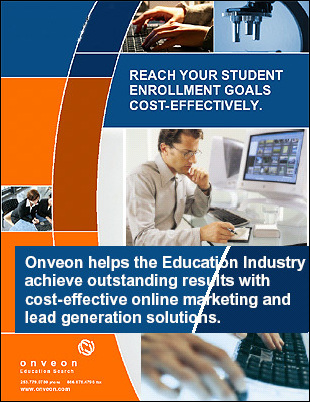 Tacoma, WA (PRWEB) September 27, 2006
Onveon Education Search, Inc. (http://www.onveon.com ), an industry leader in online education and distance learning, announced it's partnership with DirectoryM.com today. The partnership provides placement on some of the most highly trafficked portals on the Internet today including; BizJournals.com, BusinessWeek.com, FinancialTimes.com, Inc.com, Kiplingers.com, Law.com, NewsWeek.com, PCWorld.com, SmartMoney.com, WallStreetJournal.com & ZDNet.com.
Onveon President, Alex Rahin, stated, "We are looking forward to a long-lasting relationship with DirectoryM. It's a great partnership from both a technology and a marketing standpoint which builds on the strengths of both companies. It will allow Onveon better market penetration in the online education, distance learning and campus based learning realms and provide valuable content to many high profile portal sites with very low resource overhead on their part. Ultimately, it's the users of the portal such as Newsweek.com who benefit from the free resources and value provided."
Onveon is an innovative marketing, advertising and lead generation company, focused on helping the Education Industry successfully reach student enrollment goals with world-class online student recruiting solutions. Onveon specializes in matching and connecting prospective students with the schools that meet their education goals using proprietary online technologies and strategies. Onveon's online resources include comprehensive databases of online and campus based schools and programs specifically designed for prospective students looking for education and career options. Onveon's goal is to provide the most cost-effective recruiting solution to the Education Industry; and to build the Internet's top destination to help prospective students and professionals achieve their education and career goals. For more information please visit http://www.onveon.com.
# # #