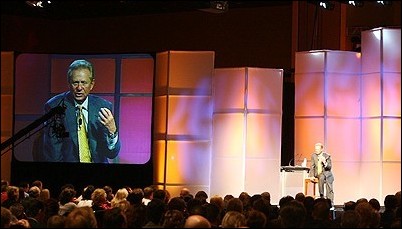 We believe the elegant facilities are among the best Dallas has to offer for large business meetings and social functions. The hotel's staff did an excellent job of serving our event needs and making it a memorable experience for our distributors from around the world who were there to celebrate another year of success
Plano, Texas (PRWEB) September 28, 2006
Ralph Oats and Cathy Oats, Founders of Wellness International Network, Ltd. (WIN), an undisputed leader in the health and nutrition industries, recently announced plans for the company's 14th Annual Anniversary Gala to return to the Embassy Suites Frisco, October 20-21, 2006.
Pleased by the way the hotel hosted the company's 2005 Anniversary Gala, WIN Founders Ralph Oats, and his wife Cathy are excited about future business relations with the new venue. "We believe the elegant facilities are among the best Dallas has to offer for large business meetings and social functions. The hotel's staff did an excellent job of serving our event needs and making it a memorable experience for our distributors from around the world who were there to celebrate another year of success," says Ralph Oats. "We are already looking forward to making our next event there even better."
"Hosting the Wellness International Network, Ltd. Anniversary Gala in 2005, our opening year, was a fantastic way to expose our new hotel property to a number of professional business associates throughout the world. This truly is a global organization," says Linda Catalina, Director of Sales & Marketing at Embassy Suites Frisco.
WIN's Annual Anniversary Gala is a time of training, recognition and celebration for the company's distributors who are building the company into a billion-dollar business. This year's event also includes a golf tournament at Stonebriar Country Club's Fazio Course supporting St. Jude Children's Research Hospital, a Dallas city tour, corporate tours of WIN's headquarters and parties featuring talented Texas performers Chaz Marie Band and The Klocks. WIN is pleased to continue supporting the local economy by hosting bi-monthly business seminars and the annual Anniversary Gala, while providing distributors with vision and insight as they achieve ultimate physical, mental and financial wellness. WIN is looking forward to the 2007 Anniversary Gala when the company will celebrate 15 years of doing business.
About Wellness International Network, Ltd.
A privately held company specializing in health and nutritional products, Wellness International Network, Ltd. is headquartered in Plano, Texas, with its European affiliate, WIN Worldwide BV, located in Hoofddorp, Holland and its South African affiliate, Wellness International Network S.A. (Pty) Limited, located in Johannesburg, South Africa. Founded in 1992 by Ralph Oats and his wife, Cathy; WIN operates in many countries throughout North America, Europe and Africa, and is far and away the forefront leader in global network marketing. Wellness International Network's complete nutritional line is listed in the 2007 edition of the Physicians' Desk Reference® (PDR®) for Nonprescription Drugs and Dietary Supplements, the authoritative reference for health care professionals for decades, and a number of products have been reviewed by the National Institute for Public Health and the Environment (RIVM) in The Netherlands based on International Olympic Committee (IOC) standards on behalf of The Netherlands Olympic Committee (NOC) and The Netherlands Sports Federation (NSF). Products reviewed are now listed on the 'white list,' a list of products considered safe to use by top sports athletes from all over the world. Learn more about why "It Pays to Live Well" at winltd.com.
###