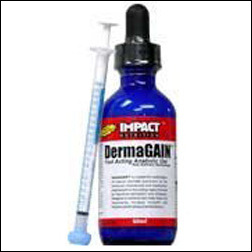 It's one of those things with topical delivery systems… you really feel it working fast!
Aurora, CO (PRWEB) September 28, 2006
What is DermaGAIN?
DermaGAIN is a topically applied muscle burn inhibitor. A steroid alternative that works by delaying the onset of lactic acid in the muscle while relaxing the blood vessels to allow for more blood flow.
It works right on the area it is applied. Bodybuilders apply the cream 15-20 minutes before working out, directly to the muscle group they are working that day. It is sold along with a Baxa Med syringe to measure out the precise dosage. It has been the flagship product of IMPACT Nutrition, a leading bodybuilding supplement company since 1999. Nearly every person that uses DermaGAIN finds it very effective, almost immediately. "It's one of those things with topical delivery systems… you really feel it working fast!" Explains Anthony R., a personal trainer and user of DermaGAIN.
Why Use DermaGAIN?
Individuals who take their gym workouts very seriously tend to look for supplements to speed up the growth of their muscles – notably the biceps, pectorals, and calves – which DermaGAIN is known to be most effective for. These, along with the abdominals, are the areas that are the hardest to develop for most people. DermaGAIN is a specialty muscle builder that can help a person look bigger and feel stronger right from the first application.
DermaGAIN and Lactic Acid
The manufacturer of DermaGAIN claims that the effects begin within minutes of being applied on the skin – users agree! One of the key features of DermaGAIN is its ability to buffer lactic acid buildup in the muscle. Build up of lactic acid is what causes the "muscle burn" that stops even the most seasoned athletes in their tracks! Possibly a more notable effect of lactic acid build up is the sickening, over-worked feeling you get at the end of a very intense workout. Buffering lactic acid can lead to more reps per workout session, essentially allowing the user to get a more efficient workout in the same amount of time as they are already putting in.
"Athletes know that lactic acid build up is one factor that can limit their ability to workout. Lower levels of lactic acid mean longer, harder workouts." Says Anthony, "…anything that can help buffer or delay the onset of lactic acid build up is golden!"
DermaGAIN a Steroid Alternative?
DermaGAIN has also been mentioned as an effective steroid alternative. For example, an excerpt from TheSteroidWorld.com in 2004 mentions DermaGAIN numerous times as a safe alternative to the steroids anadrol, anadur, anavar, androgel, deca-durabolin, finajet, implus, laurabolin, among other anabolic steroids.
DermaGAIN has also been featured on Steroids.com and in mainstream publications, such as the Anabolic Insider, Hardcore Muscle Magazine, Flex Magazine, and Muscle And Fitness Magazine.
DermaGAIN Cautions
As with all products of this nature, DermaGAIN is not officially endorsed by the US Food and Drug Administration (FDA). In fact websites who market DermaGAIN make it clear to researchers that statements contained on their website have not been evaluated by the FDA. They further state that DermaGAIN must be used in conjunction with a nutrition and exercise program. DermaGAIN is also not intended to cure or prevent any disease.
Who Is IMPAT Nutrition?
IMPACT Nutrition is best known for discovering the revolutionary pro-hormone formulas that have since been reclassified as anabolic steroids; schedule III illegal substances. Since the reclassification, all of their products have been reformulated with non-steroidal ingredients. DermaGAIN truly is a unique and effective product for athletes looking for tremendous results, fast! It is not found in retail stores, but can be purchased online at http://www.Zupplements.com.
If you would like more information on DermaGAIN or other hardcore muscle builders, visit us on the web at http://www.Zupplements.com or call toll free at 1-888-987-7748. info@zupplements.com
Zupplements.com specializes in Select, Proven Bodybuilding Supplements and Steroid Alternatives.
Competitive Prices and Excellent Service!
+PLUS+
Supplement - Nutrition - Training - Bodybuilding - Steroids News, Articles, Information and Advice!
###