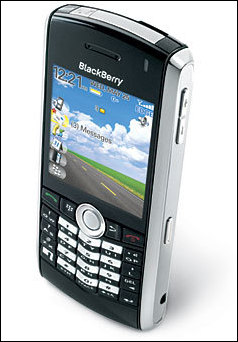 Mr. Khawand gives users a realistic view of the process of acquiring a new device and getting it fully functional
San Francisco, CA (PRWEB) September 28, 2006
When the new BlackBerry Pearl was released by T-Mobile on Tuesday September 12, Mr. Khawand acquired the device and used it for 9 days.
The findings have been published in the 81-day-experiment blog (http://81dayexperiment.typepad.com) as well as on Google Video (http://video.google.co.uk/videoplay?docid=-950927293890515112). The 6 minute video, which includes a demonstration of the device in action, provides users with an in-depth look of the device's capabilities and usability. In addition, the BlackBerry Pearl, together with the popular Treo 700p, Treo 700w, Motorola Q, and BlackBerry 8700, have been added to the "Selecting Your Handheld Device" workbook which is available for download in PDF format to help users make an informative decision.
"The 81-day-experiment has been a valuable learning experience but sometimes challenging" indicated Mr. Khawand as he gets ready to start using a new device this week. "Setting up one device and getting it fully synchronized with your desktop can take some time and effort, so you can imagine what it is like to setup one of these devices every 9 days". The purpose of the 81-day-experiment is to give users insights into these handheld devices and help them avoid costly mistakes in the selection and setup process.
"Reviewing the devices for a few hours is one thing, but actually using them as your own device for 9 days is a whole different story, and this is what makes the 81-day-experiment a useful resource for users" said Deborah Bonner, President of Golden Rule Training, a San Francisco training company providing BlackBerry and productivity training to Wells Fargo, Kaiser, and other large organizations. "Mr. Khawand gives users a realistic view of the process of acquiring a new device and getting it fully functional" added Ms. Bonner. When having realistic expectations about the devices and the services they are likely to receive from the service providers, users are much more likely to succeed and be less frustrated during this process.
Since People-OnTheGo released its "BlackBerry, Treo, or Pocket PC: Virtual Test Drive" as an online workshop last year, as well as a Google video and a PDF workbook, thousands of business professionals such as Patti Frey from Thomson, Joni Stone from Tropical Vacations Travel, and Glenn Millar from EWS Real Estate Investments, found the workshop and related material informative and even necessary before heading to the retail stores. Ms. Stone for instance, found the device comparison and demonstrations that used real-life business scenarios quite helpful, and chose the Treo 650 at the time.
As more users look for handheld devices, and as features, plans, and usability factors become more complex and continue to change, users need a framework for their decision making process. Companies like People-OnTheGo (http://www.people-onthego.com) provide such a framework and help users avoid costly and less than optimum handheld purchases. The "81-day experiment" blog, the BlackBerry Pearl Google video, the "Selecting Your Handheld Device" workbook, and the "Virtual Test Drive" online workshop, are examples of the new and innovate types of resources that are now available to users.
About People-OnTheGo
People-OnTheGo helps companies and their employees effectively manage the use of e-mail, office applications, and handheld devices, to save significant time, communicate more effectively, and minimize legal and security risks. The learning programs include onsite, online live, and Web self-paced modules, as well as one-on-one and team coaching sessions.
###