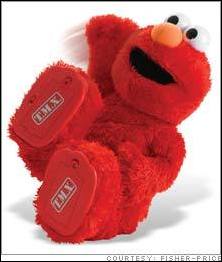 They are in fact sold out in stores but they are not impossible to get
Roanoke, VA (PRWEB) September 29, 2006
With consumers pounding the streets, stores, Internet and even each other to get the new TMX Elmo Doll, BlueFungus Concepts today announced it has the doll in stock and ready to ship.
"They are in fact sold out in stores but they are not impossible to get" says the owner of a marketing company based out of Virginia which own a personal shopper service for the elite. There are many places that you can buy the Elmo at an inflated price. One site found at the top of search results on Google.com is selling them for $200.00 each; another site http://www.BlueFungus.com/tmx is selling them for $169.00 each. There are already people selling them in newspapers for a whopping $300.00 as seen in the classifieds section in NY.
We had a chance to speak with William, the brain behind http://www.BlueFungus.com/tmx, which is selling their TMX Elmo for $169.00. We interview him by phone and asked how he got over 300 Elmo's and what type of response he has had to his pricing and offering. "We actually pay an inflated price to an anonymous source and mark them up. The fact is they are sold out everywhere and if people want them they have to pay a higher price. We have sold a few but plan on selling more as Christmas nears at an even higher price maybe as high as $300 in some cases." For now they plan on keeping the price fair at $169 and they are getting plenty of sales. We were told that they have sold over 100 in fewer than 48 hours.
Consumers are fuming because they can not get one at the reasonable retail price. This is a true supply and demand scenario where you will certainly have to pay to play. Many consumers that we have talked to stated they have ordered an Elmo thinking it was the English version but when it arrived at their doorstep it was a Spanish speaking version of the doll. "You have to be cautious and ask if you are getting an English version or Spanish version" says William.
Consumers want this Toy so bad there have been reports if fights, burglary, and shoplifting to get them. It may be safer to find one online at this point.
Jim Silver, editor of Toy Wishes magazine, said Elmo T.M.X. has the potential of being one of the blockbuster toys of the year, especially in the pre-school category. However, the new Elmo could very well become "extremely" hard to find.
"Because the technology is so complicated, it's taking longer to make the new Elmo. Fisher-Price is only making between 50 to 60 percent of the full-year production of the new Elmo," Silver said, adding that Fisher-Price typically produces a million and a half units of Elmo for the holidays.
"There's going to be a shortage for T.M.X.," he said."
###