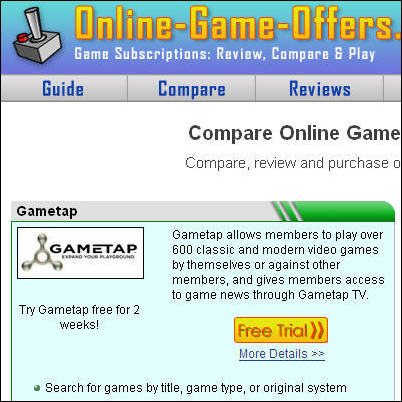 Austin, TX (PRWEB) October 3, 2006
Online-Game-Offers.com is the definitive source to learn about, compare, and save on online game subscription services. With numerous online game subscriptions to choose from, selecting the right one can be a tough decision. Online-Game-Offers.com has compiled extensive information about each online game service. The video game subscriptions featured on Online-Game-Offers.com, include Gametap, Shockwave Unlimited, and RealArcade GamePass.
Online-Game-Offers.com allows visitors to compare online game subscription services side-by-side on a variety of important factors including features, cost, games, free trial offers, and more. These side-by-side comparisons feature the Online-Game-Offers.com editor's rating of 1-5 stars for each service and an easy-to-use "bottom line" that provides the leading benefit of each service.
"Online-Game-Offers.com takes all the hard work out of researching online game subscription services," says site visitor Jennifer Wyatt.
Some of the most useful information on Online-Game-Offers.com explains what new members to an online game subscription service get as an incentive to join. Most online game subscription services allow users to register for a free trial. The Gametap free trial gives new members 2 weeks to explore the service. Free online shockwave games are available with the Shockwave 10-day free trial. The RealArCade GamePass free trial allows new member to download 2 Real Arcade free games. Taking advantage of a free trial is a great way to evaluate the quality of the service and the types of games available.
The extensive guide and reviews section of Online-Game-Offers.com contains detailed online game subscription services reviews and a number of informative articles that will help visitors understand how and why to use online game subscription services. Each review gives detailed information about the service, what unique features the service has, and how much it costs. In addition to reviews of each game service, a Yahoo! Games review is available for visitors to learn more about Yahoo Games and how they compare to Gametap games and games from other game services. Featured articles include How to Choose the Best Subscription Game Website for Your Needs, Why Join a Subscription Game Website, and Where to Buy Computer Games Online. Online-Game-Offers.com delves further into online game subscription topics than other online game subscription service comparison sites to answer the questions that really matter to its visitors.
About Online-Game-Offers.com:
Online-Game-Offers.com was developed by a group of online game enthusiasts that got into a heated debate about which online game subscription service was the best. In an effort to settle the disagreement, they tried them all, and carefully detailed their experiences with each. The site creates one, centralized location where visitors can view the best online game subscription services, get full details about each service, get the latest online game subscription service free trial offers, and read informative reviews and articles to help them select an online game subscription service and effectively use the service.
###