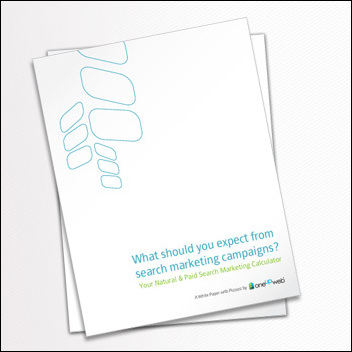 Of course every industry, company and website has a unique set of marketplace variables which affect individual corporate opportunities
Lake Leelanau, MI (PRWEB) October 2, 2006
Oneupweb, an online marketing leader, today offered marketers a tool to help them predict the impact of natural optimization and paid search marketing. Oneupweb's Search Marketing Calculator presents two easy-to-read charts, one for natural optimization and one for paid search, that describe varying degrees of market success. Marketers can compare where they are performing now to what's typical and what's possible. The search opportunity calculator, titled Predict Return on Your Natural & Paid Search Marketing Campaigns -- A Calculator for ROI Measurement, is available free at Oneupweb.com.
"Of course every industry, company and website has a unique set of marketplace variables which affect individual corporate opportunities," explains Oneupweb CEO, Lisa Wehr. "Our calculator doesn't replace professional insight; it gives marketers a starting point." Oneupweb found that many marketers need help determining not only what to expect, but also where they are. When a company begins considering search marketing as a strategy, it often has no reference point, no experience with processes and timelines and no understanding of the value of an investment.
"To get search marketing budget approval (natural or paid), marketers have to face their peers and explain what the return on the investment will be. This document helps them with that discussion," says Wehr.
Oneupweb leads the industry in providing marketers with research and materials that help marketers sell search marketing's benefits to corporation management. In 2004, Oneupweb released the first and only study that showed businesses how much sales increase when a site improves its natural Google positions. In addition, Online Marketing Brief, an e-newsletter provides hands on advice on what to do with the research as well as a volume of other helpful case studies, articles and resources. Oneupweb's blog, StraightUpSearch is a behind-the-scenes, timely and knowledgeable perspective of what's going on in natural optimization, paid search and podcasting. And finally, Oneupweb also presents a podcast series, Integrated Online Marketing (IOM), making its library of white papers and resources available to marketers on the go or at their desk.
Oneupweb is committed to providing marketers with the tools necessary to make successful strategic and tactical decisions. And this beneficial new calculator is another tool marketers can use to generate online results.
About Oneupweb
Oneupweb has been an innovator in online marketing for more than a decade, creating integrated online marketing plans that include natural search engine optimization, paid search marketing, podcast production, online market research, marketing analytics and more. An award–winning firm, Oneupweb was named a 2006 Michigan Top 50 Company to Watch and is the only two–time winner of the prestigious ClickZ Best Search Engine Marketing Vendor Award. CEO, Lisa Wehr, an Ernst & Young Entrepreneur of the Year, has been named to BtoB Magazine's Who's Who List three years and is recognized as a Leader & Innovator by Lawrence Technological University. The company publishes an SEO / SEM newsletter Online Marketing Brief™ and a blog named StraightUpSearch. Oneupweb is a privately held company located in Michigan. For more information on Oneupweb, please contact 231.256.9811 or visit Oneupweb.com.
###