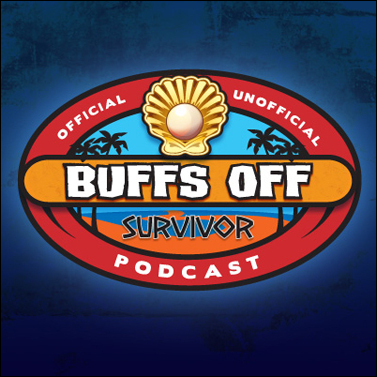 Cao Boi is eating baby seagulls. If they eat them I'll swim over and kick his ass myself.
Pukapuka, Cook Islands (PRWEB) October 3, 2006
As if you didn't waste enough ticks on your terminal life clock Thursday night … Buffs Off™, The Official Unofficial Survivor Podcast is back from the island and ready to weigh in on Episode 3. Join us as our star-damaged foursome of podcasting pukateers – Lance Manion, Christmas Whetstone, Clay Melon and Sterling Inwood – make sense of it all. Subscribe to the podcast at BuffsOff.com.
Lance Manion summarizes the September 28th Survivor edition with its new alliances, as Nate catches an octopus while Parvati casts her love tentacles his way, Raro wins the steeplechase of pain and sends Candice to Exile Island. And after Yul tells Becky he's indestructible, Coa Boi nearly buffs-up Yul's new alliance. It's what passes for drama in Survivor Cook Islands, Episode 3.
Buffs came off of the social experiment as the four teams are merged into two, it's Raro and Aitu newly buffed and ready to rumble. Will there be simmering old ethnic alliances? Christmas Whetstone has some strong opinions on the subject of social bonding in this podcast, and they might set the water cooler bubbling.
Sterling Inwood comments about Candice leaving and her inability to speak in appropriate tongues. But one of our team reveals his not so hidden love for the newly departed. You'll be moved.
Lance Manion comments on the fight that wasn't, Cao Boi's non-stop babbling and how his last minute vote change has divided our critics. Is Cao Boi more cunning than he lets on? Our reviewers duke it out over this one.
And what's the deal with Flica, the dreadlock queen – will she be a factor? The critics are divided. Clay summarizes her speech at the campfire in four unforgettable words and Sterling piles on. But Christmas sees Flica as a possible power player. Flica a power player? Or is it all a pile of Puka? The debate rages.
The "princes of evil", Jonathan and Yul, have joined in an alliance, but will it backfire? Our critics see Jonathan as the more conniving of the two, but will that make him the likely target of the tribe's ire? And is there anything Yul can do to save himself after blabbing to Becky that he's found the idol? All will be revealed in this latest podcast.
Next week's previews have Christmas disturbed. "Cao Boi is eating baby seagulls. If they eat them I'll swim over and kick his ass myself." "Hey, it's meat," says Sterling. "If we want vegetarian Survivor, we can call it Soyvivor." And who'll get voted off next week? See our critics' near unanimous choice, by tuning into Episode 3 Buffs Off, The Official Unofficial Cook Islands Survivor podcast at BuffsOff.com. Here listeners can also weigh in with their comments and the issues they would like addressed in future episodes by commenting on the Buffs Off blog.
About Buffs Off™
Buffs Off is the free, Official Unofficial Survivor podcast produced each week in an abandoned WWII radar installation by the four remaining inhabitants of the unoccupied portion of Pukapuka Island in the Cook Islands. The native commentators -- Lance Manion, Christmas Whetstone, Clay Melon and Sterling Inwood – weigh in each Friday with a new podcast and blog posting on Buffsoff.com, as only these frontline observers can. The growing Buffs Off Survivor community share ideas and inspiration through regular blog commentary on the Unofficial Official site, BuffsOff.com.
# # #