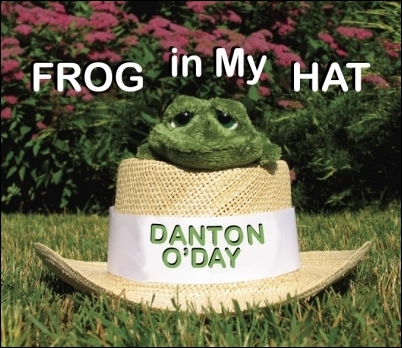 Workout with Ticker for a Healthy Heart
(PRWEB) October 5, 2006
"Awesome," "cool," and "I loved it" are just a few things kids and their parents have said about the songs in test-marketing the new music CD "Frog in My Hat". This is a fun and dynamic collection of 10 great songs all written by Danton O'Day.
These songs will have everyone tapping their toes, singing along, jumping up and just plain having fun. There are no purple dinosaurs here, just family-friendly songs written from the heart with stories and themes the whole family will enjoy—songs for the young and the young-at-heart. There are songs to get you moving and songs to quiet things down. As an independent artist, Danton O'Day may not have the big music studios behind him but he has something better—support from kids and their moms & dads.
Frog in My Hat Song List
Time to Dance (2:17)—An upbeat song about getting up and having some dancing fun
Doing What I Have to Do (2:42)—A catchy tune about doing things we don't want to do
Fish Out of School (3:30)—There are some crazy things going on down at the beach...
Rock On (2:39)—No message here, no words—just a bouncy, sporty, dancing tune
Rain Don't Go Away (2:15)—A gentle song explaining that even rainy days are important
Frog in My Hat (2:58)—I love frogs, 'cause I've got one living in my hat—plus some other pets
Come Out and Play (2:43)—What do you do when you and your best friend don't get along?
Rollerblading (3:17)—Strap on those skates and do what everyone else is doing "all around the world"!
Tell That Story Again (2:54)—A simple bedtime story can mean so much to everyone, try it tonight
I'll See You in the Morning (2:17)—This simple and beautiful lullaby says it all
Short Musical Biography
Danton (aka Dan) O'Day has been writing songs and playing in diverse bands since he was a teenager. He's played in the US, Canada and the Netherlands as a solo folk musician, as part of a rock and roll duo (Dan & George), and in blue-grass/country bands (The Mississauga Rattlers, The Country Gentlemen). A few years ago, Dan was asked to write some songs for a children's exercise video "Workout with Ticker for a Healthy Heart" and found his new love—writing music for kids and families. The success of the video led to a full 14 song music CD by Myra, Mike and Dan "Monkeys Don't Wear Shoes—Or, Cowboy Boots".
Available at: Puretracks & iTunes or from your music store.
Check out: http://www.DantonMusic.com where you'll find more about his Music, some Kidstuff, SongStories, Pictures and more.
Contact Information:
Name: Danton H. O'Day
Address: 1486 Willowdown Road, Oakville, Ontario, CANADA L6L 1X3
Phone: (905) 847-3257
###