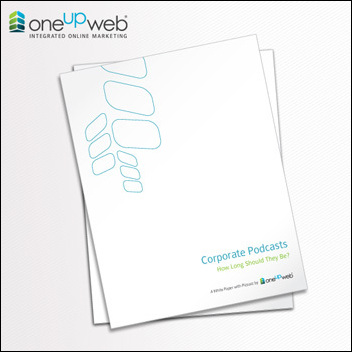 We hope this paper helps marketers to overcome any lingering reservations and test the return on investment of podcasting for their business.
Lake Leelanau, MI (PRWEB) October 4, 2006
Oneupweb, an online marketing leader, today announced the release of research analyzing the length of popular corporate podcasts. Several podcasting industry spokespeople have offered conflicting opinions regarding the optimal length of corporate podcasts, exacting a range from 3 minutes to 48. Oneupweb collects the research, sorts out the conflicting info and provides marketers actionable advice in its free white paper, titled Corporate Podcasts: How Long Should They Be?, available at Oneupweb.com.
"What marketers need to know is what is going to work for their target audience," says Oneupweb CEO Lisa Wehr. "Our paper focuses on what the largest populations of listeners are downloading now, to give marketers a sense of what's working."
The paper covers the industry conjecture over whether corporate podcast listeners are listening at their desks or while mobile on an MP3 player. Oneupweb reminds marketers that industry habits vary from target audience to target audience and those habits are changing quickly with the growth of the medium. Valued, popular podcasts have secured a loyal listenership by providing entertaining content that is worth the listener's time. The paper also describes strategies to ensure that business podcasters continually improve their podcasts to meet the needs of their audience."
"Podcasting is a rapidly growing marketing channel," says Wehr. "We hope this paper helps marketers to overcome any lingering reservations and test the return on investment of podcasting for their business."
Oneupweb has many articles, white papers and podcasts outlining podcasting best practices, including: Corporate Podcasting 101, Consider Podcasting, Optimizing Podcasts and an attractive poster illustrating the proper process for developing a business podcast.
About Oneupweb
Oneupweb has been an innovator in online marketing for more than a decade, creating integrated online marketing plans that include natural search engine optimization, paid search marketing, podcast production, online market research, marketing analytics and more. An award–winning firm, Oneupweb was named a 2006 Michigan Top 50 Company to Watch and is the only two–time winner of the prestigious ClickZ Best Search Engine Marketing Vendor Award. CEO, Lisa Wehr, an Ernst & Young Entrepreneur of the Year, has been named to BtoB Magazine's Who's Who List three years and is recognized as a Leader & Innovator by Lawrence Technological University. The company publishes an SEO / SEM newsletter Online Marketing Brief™ and a blog named StraightUpSearch. Oneupweb is a privately held company located in Michigan. For more information on Oneupweb, please contact 231.256.9811 or visit Oneupweb.com.
# # #