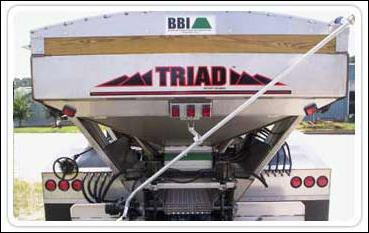 The TRIAD empowers Commercial Applicators to cover more ground faster and apply to more farms in a week than with competitive products
Gainesville, GA (PRWEB) October 5, 2006
Barron and Brothers International (BBI), a manufacturer of advanced fertilizer spreader technology that delivers simple solutions to complex problems, announced today that their TRIAD series of spreaders is the perfect solution for Commercial Applicators that are looking to increase their profit margin and efficiency in the field.
"The TRIAD empowers Commercial Applicators to cover more ground faster and apply to more farms in a week than with competitive products," says Lee Kilpatrick, Director of Marketing for BBI. The TRIAD is the first high-capacity, three-material spreader system capable of conveying and broadcasting three different granular materials at three varying rates while in motion. This makes true one-pass variable rate application possible. "This technology enables Applicators to meet the incredible demand for application during a very limited growing season," reports Kilpatrick.
With a swath of 90 ft, the TRIAD will cover a third more ground than more costly air spreaders. In the right conditions, the TRIAD can travel up to 20-25 M.P.H., and with a larger capacity than most air spreaders, an Applicator can carry more product out into the field. Kilpatrick also points out the cost savings with TRIAD, stating, "Most air machines last a maximum of 5 years, and can cost up to $10,000 a year to maintain. The TRIAD from BBI can last up to 10-15 years and normal maintenance averages about a $1,000 a year. Add to that a robust savings in labor, since the TRIAD requires fewer operators. The result is a complete package that can greatly reduce costs and streamline your overall operations."
The Promise Of Higher Yield
Another important benefit of the TRIAD is its capability to create a better yield for farmers. The TRIAD spreader enables true precision agriculture with a unique three-bin design and variable rate control. The TRIAD combined with variable rate technology and Global Positioning System (GPS) technology can customize the application rate for each element in the fertilizer blend—as it moves across the field. This means every grid on a field will get the exact chemical application it deserves, and you can meet the exacting specifications of every farmer you do business with.
A study is under way to prove the yield results of the TRIAD. The TRIAD is being compared against an air machine in the application of several farms. Jamie Perry, an Agronomist with the Mid-South Farmers Cooperative, is starting to see the difference the TRIAD makes stating, "According to the law of fertilizer minimums, the yield of a crop is only as good as the weakest element in the application," said Perry. "With the TRIAD's 3-bin design, we're hitting even the minor element in the first pass, enabling what I think will be very promising yield data. And the one thing I know for sure is that the TRIAD consumes less fuel and requires less maintenance than your typical air machine."
Calculate The Savings For Yourself
Go online and use BBI's financial calculation tool to discover how much money you can save per acre using TRIAD spreader technology at http://www.bbispreaders.com. Click on "FREE APPLICATION" in the left margin.
About BBI
Barron and Brothers International, specializes in providing simple solutions to difficult problems in order to deliver most dynamic and adaptable spreader products. BBI provides a wide range of products with great flexibility and customizable options. BBI's tough and durable equipment, coupled with our unique designs and outstanding customer service, has created an inventive company committed to improving our customers' economics and their overall level of satisfaction.
Optimized Press Release by Write2Market
###