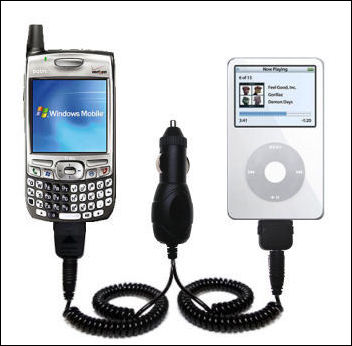 But the Dual Charger lets me keep my Bluetooth charging while my associate plugs in his GPS-enabled PDA, allowing us both to stay at the top of our games.
Herndon, VA (PRWEB) October 12, 2006
Gomadic Corporation (http://www.gomadic.com) is pleased to announce the launch of the Dual Rapid Car Charger, engineered to give nomads limitless options for charging their tech on the go.
Compatible with Gomadic's revolutionary TipExchange Technology, the Dual Car Charger was constructed with one cigarette lighter adapter and two optimally functioning cables so nomads can keep two devices charging at the same time. However, since the TipExchange concept is so versatile, the Dual Car Charger really enables thousands of devices: Nomads can simply leave the charger intact and rotate their tech as needed by plugging and unplugging the removable tips that are custom-made for almost any hand held device.
"We see this as the natural evolution of the Gomadic concept—which is making life easier for our customers," says Gomadic President Don Cayelli. "Now you don't have to argue about whose device takes precedence when you're on the road. Whether your traveling with your sales team or your family to the beach, the Dual Charger puts more options and thus more power back into the end user's hands."
Created to accommodate the hasty production of gadgets tailored toward the shifting tastes and often-contradictory needs of the mobile workforce, the Dual Charger allows travelers to split their differences, quite literally, by offering multiple solutions to any powering challenge.
"In my business, missing even one client call at a crucial time could be devastating," says David Blessing, partner at telecom consulting firm, Parrish, Blessing & Associates. "But the Dual Charger lets me keep my Bluetooth charging while my associate plugs in his GPS-enabled PDA, allowing us both to stay at the top of our games."
Also available in a standard wall model to streamline counter space and minimize the messy, superfluous wires that can pollute any home or work environment, the Dual Charger transmits four times the power of cheaper, single purpose units. This translates into powering double the devices in half the time, rendering traditional, device-specific cables virtually obsolete.
"Quite frankly, this makes traveling a breeze. I can keep my iPod playing while my PDA's charging and than just shuffle in my wife's cell phone if we need to," says office manager John Phillips. "My son can even keep his video games going, which makes traveling that much more pleasant for the entire family. With so many products falling short of their marketing promise, Gomadic's Dual Charger not only does exactly what it's supposed to do, it lets you travel in peace."
About Gomadic
Taking its name from today's burgeoning class of "nomadic" technology users, Gomadic was formed to help businesses integrate their existing mobile tools with the flexibility, responsiveness, and increased productivity of wireless technology. Their Tip Exchange Technology is just one of the many reliable products Gomadic has created to streamline the mobile marketplace with accessories such as PDA mounts, chargers, adapters, and USB and GPS cables.
Founded by experienced engineers in the mobile solutions marketplace, Gomadic's mission is to extend our leadership in the design, development, production, marketing, and implementation of mobile technologies that provide anywhere/anytime access to the Internet and other critical systems for today's nomadic users. Headquartered in the heart of Northern Virginia's Technology Corridor, Gomadic provides solutions worldwide. For more information, please visit Gomadic's web site at http://www.gomadic.com.
# # #