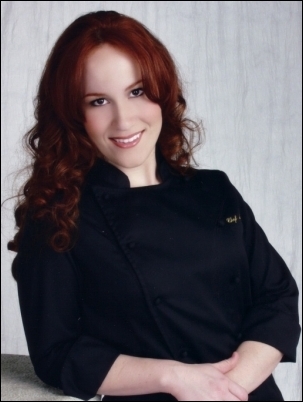 I want to give everyone a reason for cooking. I want to make them open up a www.maximumflavor.com [cookbook] -- I want to make them cook!
(PRWEB) October 4, 2006
Adrianne Calvo, a business savvy 22-year-old, is a successful chef, cookbook author, entrepreneur, and TV personality. Chef Adrianne has been called "a phenomenon" on national television and radio. She has been featured on FOX Network, ABC, Univision, Montel Williams Show, and is now a regular on NBC. She has co-hosted food related radio shows all over the country, and her opinions have been quoted on AOL News, Yahoo! Finance, and many newspapers.
In 2005, Adrianne launched her cookbook, "Maximum Flavor," and culinary product line, Maximum Flavor Essentials at a live cooking show she fully produced titled "Maximum Flavor Live!" The show drew in the crowds by the hundreds to a beautiful waterfront stage where there was a live music band, incredible lighting, and Adrianne's signature tastings.
This year marks the third season of "The Next Food Network Star," and Adrianne is on a mission to bring a splash of adventure and bold flavors to the network. This young cookbook author is not your normal stay-in-the-kitchen chef. She goes out fishing for her catch -- and then you might catch her making a campfire right on the beach in order to cook her fish. She snorkels the waters of Jamaica -- where most of the James Bond films were shot -- searching for fresh shellfish. If she is in Spain, she'll throw the best Tapas party on the block but not without a try at the famed dance, Flamenco. She will even take you on a hot air balloon ride across Napa Valley and make you an unforgettable picnic in the air. One of Adrianne's greatest moments as a chef was entertaining aboard a yacht on the French Riviera during the Cannes Film Festival.
"I want to seduce viewers to a place, its people, and its food. I want them to feel they can travel in their kitchens. I don't just want to show them a pretty dish. I want to show them where it came from, its origins, and why we still like it today. To me, life and food intertwine and that's why I want to share with everyone how to savor food -- how to savor life," Adrianne explains. "I want to give everyone a reason for cooking. I want to make them open up a cookbook -- I want to make them cook!"
About Chef Adrianne
Chef Adrianne Calvo, who took up an interest of cooking at the ripe old age of 2, has her own line of products called Maximum Flavor Essentials, including the cookbook, "Maximum Flavor." She has cooked for many celebrities including Will Smith, Luis Miguel, and John Travolta. In addition to many other awards and honors, she has been named the youngest chef to cook at the United Nations in New York City, and she catered the 2003 World Series. For more information on Chef Adrianne, please visit http://www.maximumflavor.com. Interview and photo opportunities available.
Contact:
Maggie Forte
VP Public Relations
(305)338-1723
# # #