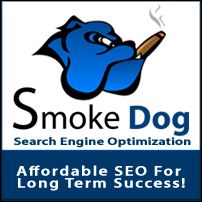 We know and sympathize with the struggle it is to get ranked in today's search engines
Scottsdale, AZ (PRWEB) October 6, 2006
In today's market it is essential to have an edge over the competition online. Whether a website sells products or services, they need targeted traffic to stay healthy and on top of the search engines. SmokeDog is new, up-and-coming company taking a hands-on approach to reveal keywords that turn traffic from search engines into sales for businesses, using a proprietary set of tools and programs. SmokeDog also offers marketing elements to increase a company's overall promotion efforts. Combining qualities of branding and Search Engine Optimization are what separates SmokeDog from the competition.
85% of traffic to a website is based on search engine use. When entering a word in a search engine, a ranked list of websites is the result. Depending on the terms entered in the search engine, and the number of inbound links associated with a website, this determines where a company will be ranked on that list. This is called Organic Ranking. If a company's Organic Ranking is improved, their website will be placed higher on the list, allowing for more traffic and business for the company. SmokeDog helps clients stay healthy and top of mind in searches with improved organic ranking through Search Engine Optimization (SEO).
"We know and sympathize with the struggle it is to get ranked in today's search engines," says Jim Christian, owner of SmokeDog. "Our team continually scours the Internet to develop and provide leading edge programs and SEO information to our clients. We have streamlined a process that will easily get your site ranked in all the major search engines and won't break your marketing budget. Plus, we know all of our clients by first name and we keep in constant contact. We are the ultimate resource between our clients, their business, and the Internet. They trust our judgments 100% because they know we will get them the results."
SmokeDog is the complete online resource for businesses and individuals looking to improve their website and sales potential. Services offered include, One Way Links, SEO Articles, Directory Submissions, Press Releases and Pay Per Click Management. Contact a search engine optimization specialist for more information on the available options. SmokeDog is located in Scottsdale, Arizona at 7678 E. Greenway Rd. #100 and can be contacted at 480-353-6312 or http://www.SmokeDog.net.
###