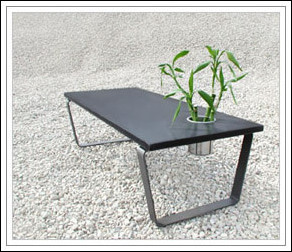 Yucaipa, CA (PRWEB) October 6, 2006 –-
Like most other Americans, when it comes to furnishing the home, one looks for pieces that are stylish, versatile, and a reflection of self. Updating your interior and exterior décor by using innovative concrete techniques is a great way to enhance the look of your home. Many don't realize that concrete can be used in myriad other ways to furnish and bring a sense of style home through concrete furniture — inside and out.
The Concrete Network, the largest and most comprehensive source for concrete information, offers an online concrete furniture photo gallery filled with several examples exhibiting design ideas on creating one-of-a-kind furniture pieces for your home or office using concrete.
Concrete offers many qualities for furniture and is innovatively being used for tables, benches, bookcases and even chairs in homes and offices around the world. Concrete is extremely versatile and can be formed to accommodate any type of existing space restrictions.
Because of its versatility concrete is one of the only materials that can be molded into countless shapes. Surfaces can be made to have soft, graceful curves and textures, complimented with warm, soothing color tones. Concrete offers a unique look and its creative possibilities are endless. Concrete also gives a natural look and feel and blends well with other design elements.
The concrete photo gallery is updated every Friday offering new photos of custom and unique designs and applications. Photos for the photo gallery have been collected from contractors around the United States and Canada and are for design idea purposes only.
Established in 1999, The Concrete Network's purpose is to educate consumers, builders, and contractors on popular decorative techniques and applications including stamped concrete, stained concrete floors, concrete countertops, polished concrete, and much more. Over 872,000 visitors researched The Concrete Network Web site in June, 2006.
The site excels at connecting buyers with local contractors in their area through its Find-A-Contractor service. The service provides visitors with a list of decorative concrete contractors throughout the U.S. and Canada, and is fully searchable by 22 types of decorative concrete work and 199 metropolitan areas throughout North America.
News image courtesy of Rock Elements. Attached photos courtesy of meld USA and DEX Studios.
###