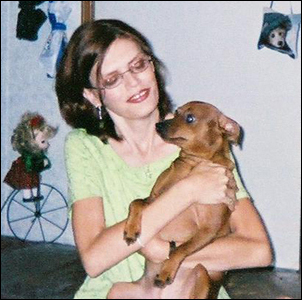 Santa Rosa, California (PRWEB) October 6, 2006
Rebecca Fortune is lucky, although with her illness it may not seem that way. Friends worldwide have gathered to raise funds for an operation to treat her Gastroparesis, a difficult condition that means she cannot digest food properly and which directly interferes with blood sugar levels and nutrition uptake. A gastric pacemaker implant should help Rebecca lead a normal life.
Rebecca is a 32 year old home maker in Pelahatchie, Mississippi, married for 13 years with her husband Steven. She has a large, supportive extended family and friends who have gathered together to raise money. There are few therapies for Gastroparesis, diet can help but her condition requires a surgical implant. The $40 000 cost for the surgery, and further support for followup therapy needs to come from somewhere.
Millions of Americans are uninsured, or underinsured for health care. A chronic illness, where a treatment is available, might not be covered under certain companies, and completely unavailable to those without any coverage. In Rebecca's case she has no insurance, and there is no realistic alternative to a $40 000 operation. In her case who could she turn to?
The answer was the power of the internet. Friends started a campaign with a website, myspace account, email lists and a benefit concert in Los Angeles, at the Key Club, with the bands: Clear Static, Rome to Paris, Crash, Curious, Sink to See, Young Americans and Lylah. On top of the benefit are the people and groups who have donated items for auction from Duran Duran to Pink.
How did this happen? Rebecca had friends who wished to help - they told their friends who had skills and resources: it grew from there. Creating the website http://www.rebeccafortunebenefitfund.com was a first step, then the benefit at the Key Club in Los Angeles on October 8th, and all the time using collective assistance on the internet.
Lisa Humphrey, "When I heard that Rebecca, a fellow Duran Duran fan, was in such a dire situation at first I felt a bit helpless. She is a true fan, part of my 'family', and I really wanted to help. When Marcia Dixon approached me with the idea of a benefit, of course I jumped at the chance. Volunteering and promoting this benefit has been an amazing experience. I've seen friends, strangers, and celebrities come together with a common goal: to help Rebecca, to help a person in need. I think it's unbelievable that because Rebecca has no insurance, treatment is being denied her. Even after this benefit, I and many others are going to continue to fight to save her life."
Mat Wright, from http://www.wrightresult.com in Victoria, Canada - "A family member came to me with Rebecca's situation and we leapt in. It's about helping the person, volunteering our time was not an issue. Raising awareness of Rebecca's illness, and the fact that so many Americans cannot access treatment without insurance was a worthwhile goal - Rebecca needs immediate help, America needs healthcare for all. If we can play even a small part it will be worthwhile."
The goal of the campaign is to raise awareness on the debilitating disease Gastroparesis, and to raise the money for Rebecca to get the surgery and therapy she needs. What is on going is the community effort from people all over the world, from all walks of life, who have used the internet to make this happen.
Rebecca Fortune's Website
Tickets for October 8th Benefit at the Key Club, Los Angeles.
Bands playing for Rebecca Fortune
Clear Static
http://www.myspace.com/clearstatic
Rome to Paris
http://www.myspace.com/rometoparis
Crash
http://www.myspace.com/crashlive
Curious
http://www.myspace.com/curiousmusic
Sink to See
http://www.myspace.com/sinktosee
Young Americans
http://www.myspace.com/2youngamericans
Lylah
http://www.myspace.com/lylah
People and Bands that have donated
Brian Anthony - 50 cds--- http://www.myspace.com/briananthony
Shiny Toy Guns- 50 cds and 75 headshots
http://www.myspace.com/shinytoyguns
Mark Shulman/Signed cymbal by Pink
http://www.myspace.com/markydrumz
Taxi Dolls-stickers
http://www.myspace.com/taxidoll
Electric City- drum pad signed by all band members
http://www.myspace.com/electriccitymusic
Warren Cuccurullo-money donation
http://www.myspace.com/warrencuccurullo
Hal Sparks-signed guitar
http://www.myspace.com/therealhalsparks
Kill Hannah - tshirts and cds
http://www.myspace.com/killhannah
Under the Influence of Giants - 20 tshirts and 20 cds (forthcoming)
Duran Duran (http://www.duranduran.com ) and individually John Taylor
(http://www.trusttheprocess.com) have donated to Rebecca's cause as well.
###