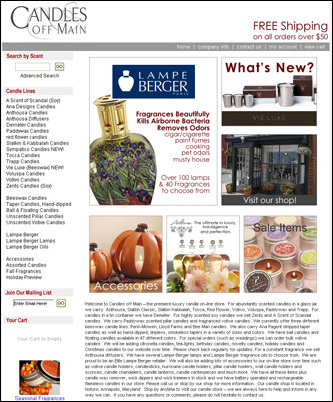 We like to take a really personal approach to our online store. We try to make our online store as personal as our retail store.
Annapolis, MD (PRWEB) October 6, 2006
High-end candles and designer fragrance oil are increasing in popularity as gift choices, decorative items and solutions for air freshening. As a result, the last several years have shown a noticeable increase in the number of online and offline candle retailers trying to penetrate the market. Candles Off Main, a cozy, exclusive shop located in the heart of historic Annapolis, Maryland, has exhibited remarkable business growth both online and offline since its opening but is only now celebrating its first birthday.
Since its ribbon cutting in October of 2005, Candles Off Main, owned by David and Susan Adams, has experienced a long series of successes that include becoming an Elite Lampe Berger dealer. Lampe Berger oil is known throughout the world for its alluring and pleasant scents and its remarkable ability to cleanse air quality. The exclusive designer fragrance oil is used not only to create wonderful aromas, but to actually remove bacteria and odors from the air. The line of more than 25 Lampe Berger oil fragrances is only available at select stores, and only a small fraction of Lampe Berger retailers can claim to have reached the illustrious Elite status.
The online store, located at CandlesOffMain.com, has been a major element of the company's success. The website reads like a glossy catalog featuring the finest candle votives, dripless taper candles and even battery operated candles. Co-owner David Adams says of the site's design, "We like to take a really personal approach to our online store. We try to make our online store as personal as our retail store."
Convenient features such as an online wish list, one-click reordering, shipment tracking and stored shipping information have helped CandlesOffMain.com outpace its competitors and develop a distinctive brand despite high market saturation. Co-owner Susan Adams only expects the candle store to grow, stating, "Our goal is to be the number one e-tailer for luxury candles."
Candles Off Main carries a varied selection of leading candle brands including Votivo, Slatkin Candles, Voluspa Candles, Anthousa, Red Flower, Tocca Candles, Vie Luxe, Sympatico, Paddywax and Anthousa essential oil diffusers. The store specializes in hand dipped taper candles, available in a wide variety of colors and sizes. Candles Off Main also handles special orders for many needs, such as bulk quantities of customized candle votives for weddings and other celebrations.
For a wide selection of luxury candle votives, handmade taper candles, designer fragrance oil and more magnificent candle products, please visit CandlesOffMain.com.
About Candles Off Main:
Located in historic Annapolis, Maryland and online at CandlesOffMain.com, Candles Off Main is an exclusive luxury candle retailer and an Elite Lampe Berger dealer. The store stocks a huge assortment of candle styles, sizes, colors, fragrances and accessories and specializes in hand dipped taper candles.
###