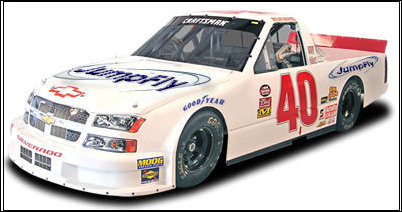 We are thrilled to be involved with such a competitive team and excited to help bring them to the next level.
Algonquin, IL (PRWEB) October 6, 2006
JumpFly expanded its NASCAR presence through a partnership with Key Motorsports in the NASCAR Craftsman Truck Series. JumpFly's logo will appear on the #40 Chevrolet Silverado Truck, which will help reach other NASCAR sponsors, who have proven to be likely potential JumpFly clients. Additionally, JumpFly will create and manage Key Motorsports' Internet advertising campaigns in order to maximize the team's online marketing results and help secure additional team sponsors.
"We are excited about the partnership with JumpFly," said team owner Curtis W. Key Sr. "Brad's a genius, JumpFly is a great concept and we are happy to have their support. Things are coming together, and we are on the cusp of being the competitive team we set out to be in the NASCAR Craftsman Truck Series, that in combination with the expertise of JumpFly, we believe we will see more sponsorship interests as we move into the 2007 season and we are looking for JumpFly to help us secure and manage those opportunities."
Key Motorsports boasts a successful, proven and experienced team, led by crew chief Barry Dodson, who is best known for guiding Rusty Wallace to his NASCAR Nextel Cup Series crown in 1989 with Blue Max Racing. The Winston-Salem, North Carolina native has amassed 19 Nextel Cup and six Craftsman Truck Series victories as a crew chief. He has worked over the years for other notable drivers as Darrell Waltrip, Kyle Petty and Richard Childress.
"We're very excited about expanding our NASCAR branding efforts into the Craftsman Truck Series," said Doug Silk, JumpFly Director of Sales. "NASCAR has proven to be a very powerful medium for reaching new clients."
The #40 Key Motorsports team currently sits 31st in the overall team owner point standings after 19 of the 25 scheduled NASCAR Craftsman Truck Series races in 2006. That puts Key Motorsports #40 within striking distance of two other teams battling for the coveted top 30 positions. The team currently trails 30th place #98 Evernham Motorsports by 166 points and 29th place #46 Morgan-Dollar Racing by 223 points.
The inaugural John Deere 250 NASCAR Craftsman Truck Series race is at Talladega SuperSpeedway on Saturday, Oct. 7, which has a seating capacity of 143,231 and a 212-acre all-reserved infield that holds many thousands more. Key Motorsports will have veteran driver and Daytona 500 champion Derrike Cope at the wheel, who has 23 Cup and 5 Busch Series starts at Talladega.
"Our successful efforts with McGlynn Racing, and their quest to secure additional sponsors for the #74 NASCAR Nextel Cup Team, demonstrates how effective this form of marketing can be," commented Brad Garlin, JumpFly Managing Partner. "We are thrilled to be involved with such a competitive team and excited to help bring them to the next level."
For additional information about JumpFly, please contact Brad Garlin or visit http://www.JumpFly.com. For more information about Key Motorsports, please visit http://www.KeyMotorsports.us.
About JumpFly:
JumpFly professionally develops, implements and manages Google AdWords, Yahoo! Search Marketing and Microsoft AdCenter pay per click accounts, enabling clients to maximize Internet advertising results while saving time and money. Proper setup and management of these powerful programs will likely make the difference between an advertiser's success or failure. JumpFly's full-service solution enables clients to focus on their core business while attaining the best possible results from their pay per click advertising campaigns.
Contact:
Brad Garlin, Managing Partner
JumpFly
877-239-9610
# # #