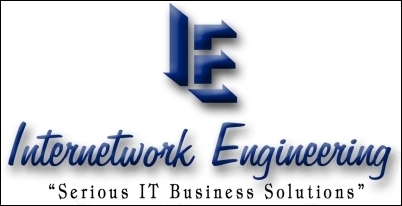 The next evolution in our industry is the migration of intelligence to the network
Charlotte, NC (PRWEB) October 6, 2006
Internetwork Engineering (IE), the Carolinas' leader in network engineering services and only independently owned company of its type, proudly celebrates its tenth anniversary this year. The company was founded as a "one man show" in 1996 by Greg Rivers and has since grown to employ 38 people with 4 offices in North and South Carolina serving more than 600 clients.
IE has built a reputation as the Carolina Region's most experienced, knowledgeable and customer focused IT integrator. By focusing on employees, clients and partners while delivering complex, mission-critical data network solutions for companies such as Family Dollar and Carolina's HealthCare Systems, IE enables technology that supports client productivity and growth. IE is a leader in technology and service excellence and is recognized by Cisco Systems as a Cisco Systems Gold Certified Partner (the only one in the Carolina region).
IE's focus on "Excellence in Engineering" and service has helped the regional company thrive despite the ever changing nature of information technology. Greg Rivers, founder and president of IE, says, "Change is an inherent part of our business because technology is always changing. With the addition of the economic swings surrounding technology and the Internet - like the dot.com boom and bust - and the resulting consolidation of technology services - the last ten years have been very dynamic to say the least. We have thrived in this fluid environment because our talented team of professionals has maintained focus on excellence in engineering and customer service. We continue to prosper (and have managed to stay independent) because our team works hard to earn client loyalty. We compete against national companies – and often win - because we offer the same technological expertise with better customer service."
Milestones along IE's successful growth path in the last 10 years:
Achieved Cisco Systems Gold Certified Partner Designation (the only Cisco Gold Partner based in the Carolinas)
New Training Program providing Cisco Certified Training developed and launched
Focus on servicing healthcare providers – earning the designation Cisco Systems Healthcare Partner of Choice for the Carolinas,
Earned certification in Cisco Advanced Technologies including: Data Network Security, IP Communications, Advanced Routing and Switching, Advanced Wireless Networking, Network Management, Enterprise Storage and Core Networking.
Expansion of service offices to include Offices in Raleigh / Durham NC, Greenville / Columbia SC, Greensboro / Winston Salem and Wilmington
Rising Star Award by Deloitte & Touche's 2001 "Tech Fast 50"
#13 in The Charlotte Business Journal's "Fast 50"
"The next evolution in our industry is the migration of intelligence to the network," Rivers says. "The network is becoming the integrated intelligent platform where communications, applications, and IT services all work together as a system. This creates exciting and unprecedented growth opportunities for us. We look forward to tackling these opportunities as we continue to provide sensible solutions that help our customers grow."
As IE prepares to face the challenges and changes of the IT industry for the next ten years and beyond the company's mission remains: to provide the highest level of network engineering, customer satisfaction and professionalism by consistently providing the best, most cost effective IT solutions and services.
IE serves over 600 companies in the Carolinas including Family Dollar Stores, Duke Energy, Carolina's HealthCare System, SCANA Corporation, Premier Inc, PCA International, The City of Charlotte, The County of Mecklenburg and the State of NC.
To find out more about IE's business solutions visit http://www.ineteng.com or contact Sandra Huerta at 704-943-5618.
###