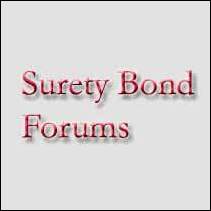 Pipersville, PA (PRWEB) October 8, 2006
The Surety Bond Forums, an online community within the surety industry is nearly two years old now. The forums are available for free, to all who wish to participate. Questions can be viewed and answered by anyone with an Internet connection. The answers are monitored by industry professionals to ensure that they are accurate.
The forums are organized by several bond categories. There are also sub-categories of some of the more frequently requested bond classes. Subdivision Bonds are one of the several sub-categories under the Contract Bond Category. A subdivision bond is required to guarantee public improvements. Typically a state or local government requires the bond of the builder, developer, or individual landowner of the property. The bond guarantees the completion of said improvements.
The Subdivision Bond Forum is one of the most inactive section of the Surety Bond Forums. However, that particular section should begin to see more activity in the near future, as the Surety Bond Forums are beginning to more heavily market all sections of the forums.
The forums have over 1,200 members and are growing everyday. Membership is 100% free and is offered to anyone with an Internet connection and an email address. There are some rules that all members must abide by. One being, no discussion of rates, as rates can vary depending on the principal, the bond type, bond amount, and current market.
If you are interested in becoming a member, you can register at anytime. Once registered, choose the appropriate category for your question. Then click "New Thread" to create a new post. Type in your subject and message and click "create new post". Answers are typically given within 24 hours or less. Also, feel free to contribute to any ongoing conversations.
Join us.
The Surety Bond Forums Team
###