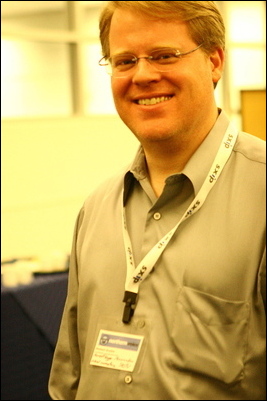 Robert was evangelizing blogs for business back when most companies didn't even have a Web site
Seattle, WA (PRWEB) October 12, 2006
When blogger Robert Scoble worked for Microsoft, Fast Company said he "may well be one of the most powerful people in Redmond." When he quit to work for the Silicon Valley podcast hub PodTech, it made the Wall Street Journal.
"Robert was evangelizing blogs for business back when most companies didn't even have a Web site," said conference organizer Steve Broback, "he has always been ahead of the curve, and I'm eager to learn from his current work in the video and podcasting arena."
Scoble will share his latest efforts with Blog Business Summit attendees in October.
"Quite a bit has happened in the world of corporate blogging and other word of mouth networks, even since last year's Blog Business Summit," said Scoble. "I'm looking forward to sharing all the latest developments and best practice tips with attendees."
The three day event will include a one day introductory overview of the essentials of business blogging, followed by two days of intensive exploration and discussion of businesses in the blogosphere with today's most influential bloggers. Session topics include how to monitor what the bloggers are saying about your business, how to start your own blog and ways to promote your blog for maximum exposure.
Event speakers include such business blogosphere luminaries as Ben Edwards who is IBM's head of New Media Communications and Weblogs, Inc. CEO Jason Calacanis.
To register for the event or for more information, please visit http://www.blogbusinesssummit.com. About the event host: Blog Business Summit is a conference series focused on business blogging. It is a leading authority on the development and implementation of successful business blogs. Its mission is to bring together expert bloggers and thought leaders with entrepreneurial and corporate executives for the purpose of developing and leveraging blogging platforms for profit, collaborative and public relations benefits.
###